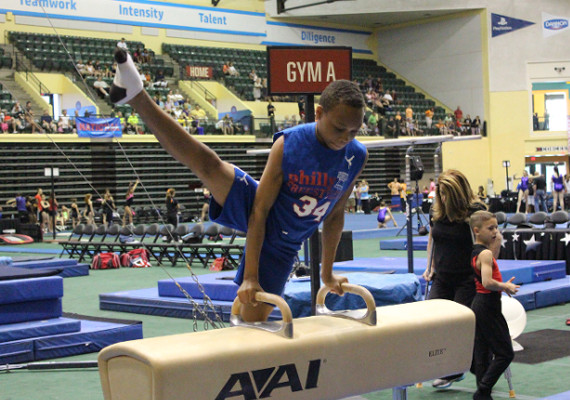 Philadelphia, PA The Philadelphia Freestylers continued their first season of competitive gymnastics with a remarkable performance at the Pennsylvania State Championships.  Freestylers' Marquis Jones became state champion on the parallel bars with a season high score of 10.6. Antonio Chandler placed second on the floor exercise with a 10.6 and second place all-around with a total score of 59.5. "I am very proud of my guys today" said head coach Taylor Bazarian. "They hung in there and battled with the best gymnasts in the State. Hopefully, we can ride this momentum into national championships."
Other notable performances of the day were brought in by Jordan Dyck with a season high on high bar of 10.4, Damir Boozer scored a 10.2 on floor, Calvin Purnell scored a 9.7 on vault, Markeis Chandler scored a 10.1 on parallel bars, Jahmir Taylor scored a 10.0 on floor, and Christian Clay scored a 10.1 on floor respectively. Up next for the Freestylers will be the AAU Age Group National Championships hosted at ESPN's Wide World of Sports in Orlando where they will compete in the gymnastics and freestyle acrobatics divisions.
About the Philadelphia Freestylers.
The owners of GymCrew founded the Philadelphia Freestylers, a non-profit youth acrobatics team, in the summer of 2012 to give inner city children of Philadelphia an opportunity to train and compete in acrobatics. Currently, the Freestylers are comprised of children from Sayre-Morris and Vare Recreation Centers.