The most anticipated comeback ever for a U.S. Gymnast is now complete. On Saturday July 28th in Columbus, Simone Biles wins the all-around, floor,...
Taqiy Abdullah-Simmons, 2017 NCAA assistant Coach of the Year, talks to GymnasticsVille about USA Gymnastics senior national team progress at camp since P&G Championships....
Now is a great time to get your workout on! Just 20 minutes a day to begin your adventure of living a active lifestyle,...
Midknight Robin interviews Ace Gymnastics head coach Mike Acevedo who is the director of the Christmas City Classic in Bethlehem, Pa.
Rise is a moving, futuristic coming-of-age story about a group of high school students dreaming of being world-class entertainers. Under the direction of their...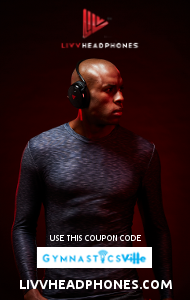 Leadership in gymnastics isn't just about the medals and scores; it's about consistency, resilience, and a driving force that can rally a team together....