Midknight Robin talks about Team USA men's podium training at the 2017 Artistic Gymnastics World Championships. The U.S. women's podium training is Sunday, Oct. 1,...
Midknight Robin interview members of the Team USA World Championships squad, Yul Moldauer and Allan Bower. 2016 Olympian Chris Brooks, Taqiy Abdullah-Simmons, Hunter Justus,...
West Point, NY. University of Illinois Vault Line-Up at the 2017 NCAA Championships. Blake Martin, Chandler Eggleston, Bobby Baker, Jacob Light, Alex Diab. Music...
Two-time NCAA Champion Kanji Oyama signs with GymCrew Talent Management. Oyama, a seven time All-America is a U.S. National team member who trains at...
Midknight Robin talks with Ernesto Borges, Rise director of photography about life, sports, and becoming a wizard with multimedia. Ernesto Borges, an experienced visual...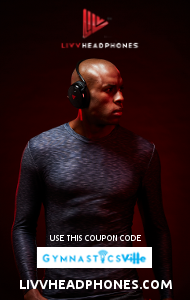 Ohio State's Sean Melton has signed with GymCrew Talent Management. Melton was named the 2018 Nissen-Emery Award winner. The award, which is college gymnastics...