Midknight Robin and Remi Marvin talk about Oklahoma football coach Bob Stoops retirement, and Texas High School Gymnastics. Justin W. James (Humble Independent School...
Midknight Robin hosts today's show with U.S. National team member Kanji Oyama from the United States Olympic Training Center in Colorado Springs. After U.S,...
Midknight Robin, interviews Randy Jepson, three-time National Coach of the Year, about the Penn State men's gymnastics team and expectations for upcoming season. Stats via...
As I suddenly awake to my 4:45 am alarm.  It felt like my head just hit the pillow to go to sleep. Norman is cold...
Rise, An Acrobatic Play" Debuts At The Dr. Phillips Center For The Performing Arts On Saturday, January 16 Tickets Now Available for the Unique, Uplifting...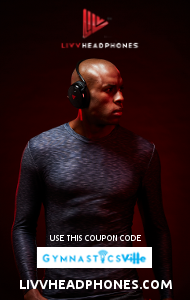 Ohio State's Sean Melton has signed with GymCrew Talent Management. Melton was named the 2018 Nissen-Emery Award winner. The award, which is college gymnastics...