Podcast Topics Colin Van Wicklen wins All-Around (83.65) and Vault (14.7) titles at the U.S. Qualifier. Sam Mikulak captured three event titles on Floor (14.6),...
After 27 years at the helm and 7 NCAA team titles, UCLA Gymnastics head coach Valorie Kondos Field will be retiring at this season...
Yul Moldauer rings routine in Norman, Oklahoma vs Iowa men's gymnastics team. 2018
GymnasticsVille.com Midknight Robin, interviews Benjamin Cooperman, Penn State team captain, about their expectations and preparation for the upcoming season. Stats via (gopsusports.com) Benjamin Cooperman 2017 (Junior...
Rise Rehearsal | The Dunk Off | Saint Cloud, FL. Things do not always go to planned during rehearsals, especially when you add gymnastics into...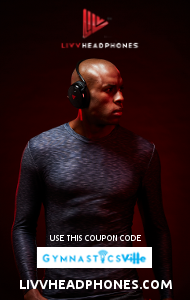 Ohio State's Sean Melton has signed with GymCrew Talent Management. Melton was named the 2018 Nissen-Emery Award winner. The award, which is college gymnastics...