Midknight Robin and Kerry Adderly discuss the results from the 2017 Artistic Gymnastics World Championships. Team USA women and men combined to win 5...
USA Gymnastics hires Kerry J. Perry to be become president and CEO of the organization. Perry will take over duties on December 1. She...
Gymnasticsville.com interviews Sam Zakutney, 2017 Big Ten Freshman of the Year, about upcoming season and being ranked 7th place in the College Gymnastics Association...
GymnasticsVille.com Midknight Robin, interviews Sean Melton, 2017 Big Ten all-around champion, about his expectations the team and preparations for the upcoming season. Stats via (ohiostatebuckeyes.com) 2017...
Midknight Robin talks with Ernesto Borges, Rise director of photography about life, sports, and becoming a wizard with multimedia. Ernesto Borges, an experienced visual...
Date: May 12, 2015 Davenport, FL | Rehearsal Location | BatCave The cast of Rise are eights months from their debut performance and the scripts readings...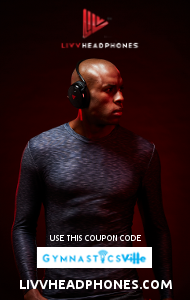 Two-time NCAA Champion Kanji Oyama signs with GymCrew Talent Management. Oyama, a seven time All-America is a U.S. National team member who trains at...