Allan Bower, Colin Van Wicklen, Trevor Howard, and Michael Reid impressive at the Houston National Invitational. Stanford, Michigan, Oklahoma, and Minnesota win big during...
Colin Van Wicklen competed in his gymnastics season opener Saturday at the Houston National Invitational. Van Wicklen won titles on the floor, high bar,...
Michael Reid, head coach for the Southlake Gymnastics, wins Gold medals on pommel horse (13.9) and parallel bars (13.95) at the 2017 Valeri Liukin...
Yul Moldauer ,a selfless champion, talks about what winning the team championship for Oklahoma Men's Gymnastics . Team first, individual placement secondary. Moldauer on...
Date: May 12, 2015 Davenport, FL | Rehearsal Location | BatCave The cast of Rise are eights months from their debut performance and the scripts readings...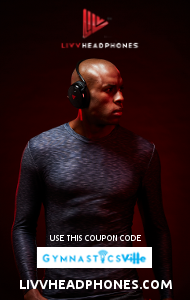 Ohio State's Sean Melton has signed with GymCrew Talent Management. Melton was named the 2018 Nissen-Emery Award winner. The award, which is college gymnastics...