GymnasticsVille interviews 3-time NCAA Champion, still rings All-American Peter Daggett. The soon to be graduating senior from the University of Oklahoma sets his sights...
Podcast Topics Colin Van Wicklen wins All-Around (83.65) and Vault (14.7) titles at the U.S. Qualifier. Sam Mikulak captured three event titles on Floor (14.6),...
Team USA Marvin Kimble has signed with GymCrew Talent Management. Kimble is one of the nation's top talents in the mix for the 2020...
Remi Marvin interviews the Oklahoma men's gymnastics team at P&G Gymnastics Championships.
Midknight Robin talks with Ernesto Borges, Rise director of photography about life, sports, and becoming a wizard with multimedia. Ernesto Borges, an experienced visual...
Let's take a sneak peak into the House of Acro Ninja rehearsals as the Orlando Metro Gymnastics Boy's team prepare for their Kids OrlandoFringe...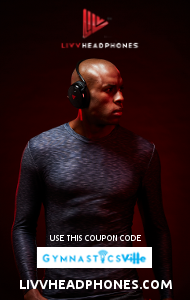 Yul Moldauer discusses the US National team bonus scoring, college gymnastics, and more with his former 5280 Gymnastics teammates Taylor Burkhart (Stanford/US Senior National...