Mark Williams, 2017 NCAA coach of the year, talks to GymnasticsVille.com about upcoming World Championships, Yul Moldauer, and expectations for Team USA. This past...
The 2012 Olympic Gold medalist, McKayla Maroney, said she was sexually abused by the same team doctor who is already facing criminal charges for...
Midknight Robin interviews Michael Evans, 2001 NCAA Champion, about the Alumni Exhibition and his views on the current team.
As a former gymnast of tumbling and trampoline, it is my pleasure to report on the 2017 World Championships here on GymnasticsVille. I continue...
Date: May 12, 2015 Davenport, FL | Rehearsal Location | BatCave The cast of Rise are eights months from their debut performance and the scripts readings...
Rise is a moving, futuristic coming-of-age story about a group of high school students dreaming of being world-class entertainers. Under the direction of their...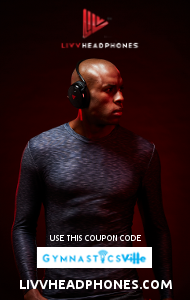 Ohio State's Sean Melton has signed with GymCrew Talent Management. Melton was named the 2018 Nissen-Emery Award winner. The award, which is college gymnastics...