GymnasticsVille analyst Kerry Adderly spoke with USA coach Mark Williams as the men's gymnastics national team returns from Funabashi, Japan for a training camp...
Sean Townsend, 2001 World Champion, talks to GymnasticsVille about at his World Championships experiences. Midknight Robin, Remi Marvin, and Kerry Adderly discuss U.S. medal...
Orlando, FL. Midknight Robin and Remi Marvin are on site at Eagles Nest Park for the Ms Fit N Grind cross training session! Leading...
Midknight Robin of GymnasticsVille.com reacts to the results of the men's Floor Final of the 2017 Cottbus Cup (Gymnastics). Tune in on Monday to...
Let's take a sneak peak into the House of Acro Ninja rehearsals as the Orlando Metro Gymnastics Boy's team prepare for their Kids OrlandoFringe...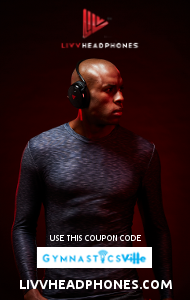 A day in the life of gymnast Michael Reid. It's routine day for the 2019 Jamaican World Team member, 2-time NCAA Champion.