Midknight Robin host today show with Nissen-Emery award winner Sean Melton from Ohio State Gymnastics. Is the Ohio State vs Michigan rivalry in gymnastics...
Midknight Robin hosts today's show with University of Illinois at Chicago men's gymnastics head coach Charley Nelson, and analyst Taqiy Abdullah-Simmons. Nelson gives his...
Penn State Men's Gymnastics moves on to team finals with a 404.790. The pursuit is still alive for the programs 13th national title. GymnasticsVille.com...
Michael Reid, head coach for the Southlake Gymnastics, wins Gold medals on pommel horse (13.9) and parallel bars (13.95) at the 2017 Valeri Liukin...
Rise is a moving, futuristic coming-of-age story about a group of high school students dreaming of being world-class entertainers. Under the direction of their...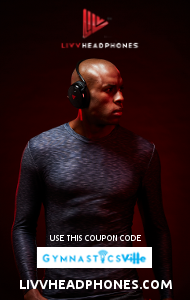 Ohio State's Sean Melton has signed with GymCrew Talent Management. Melton was named the 2018 Nissen-Emery Award winner. The award, which is college gymnastics...