USA Gymnastics hires Kerry J. Perry to be become president and CEO of the organization. Perry will take over duties on December 1. She...
Midknight Robin interview members of the Team USA World Championships squad, Yul Moldauer and Allan Bower. 2016 Olympian Chris Brooks, Taqiy Abdullah-Simmons, Hunter Justus,...
Trevor Howard, USA senior national team member talks about his preparations for Winter Cup Challenge and recovering from back surgery. Stats via (gopsusports.com) 2016 (Senior...
Remi Marvin and Midknight Robin hanging out with the University of Oklahoma Men's Gymnastics team at the 2017 P&G Gymnastics Championships. Music by Seaside...
Rise is a moving, futuristic coming-of-age story about a group of high school students dreaming of being world-class entertainers. Under the direction of their...
Rise Rehearsal | The Dunk Off | Saint Cloud, FL. Things do not always go to planned during rehearsals, especially when you add gymnastics into...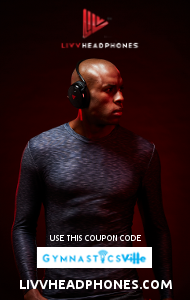 Ohio State's Sean Melton has signed with GymCrew Talent Management. Melton was named the 2018 Nissen-Emery Award winner. The award, which is college gymnastics...