Clearwater, FL. The OMG Boy's cheer on Neiman Mocombe during his floor routine at the 2017 Florida State Championships. Next up for Neiman will...
Orlando, FL. Midknight Robin & Remi Marvin are on the road again. This time they are on the way to Region 8 Championships in...
Midknight Robin, Remi Marvin, and Kerry Adderly talk with Ohio State Big Ten Coach of the Year Rustam Sharipov about the men's gymnastics team...
Emerson, Ga. Tyler Tran from Orlando Metro Gymnastics finishes the season with a strong performance at the 2017 Region 8 Championships.
Rise Rehearsal | The Dunk Off | Saint Cloud, FL. Things do not always go to planned during rehearsals, especially when you add gymnastics into...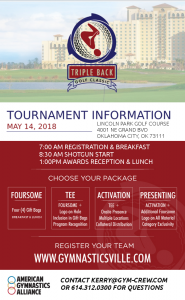 Midknight Robin interviews Troy Nitzky, 2-time all-american from the Oklahoma men's gymnastics team. Career Stats via (soonersports.com)   2013 Competed on still rings in all 12...