Junior Olympic Gymnastics Championships is being held at the Cox Convention Center in Oklahoma City and is hosted by Bart Conner Gymnastics. MIdknight Robin...
Sean Townsend, 2001 World Champion, talks to GymnasticsVille about at his World Championships experiences. Midknight Robin, Remi Marvin, and Kerry Adderly discuss U.S. medal...
Gymnasticsville Films presents our Top 5 Male Clutch Gymnasts. This weeks candidates: Johnathon Horton-He is the 2008 Olympic silver medalist on high bar, the 2010...
Yul Moldauer pommel horse routine in Norman, Oklahoma vs Iowa men's gymnastics team. 2018
Rise, An Acrobatic Play" Debuts At The Dr. Phillips Center For The Performing Arts On Saturday, January 16 Tickets Now Available for the Unique, Uplifting...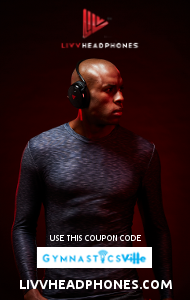 FORT WORTH, TEXAS -- Yul Moldauer has been preparing for this moment since 2016 Olympic Trials. During that quad many in the gymnastics community...