UCF Cheerleader Daniel Boeringer and Springfield gymnast Joshua Dieker stopped by the birds nest studio with Midknight Robin and Remi Marvin. They discuss life...
Midknight Robin talks about the first two weeks of the NCAA gymnastics season, OU men's team 81 straight wins, and predictions for this weekend's...
Clearwater, FL.- William Harrington (Level 9) from Orlando Metro Gymnastics on warming up for Day 1 at the 2017 Florida State Championships.
GymnasticsVille.com Midknight Robin, interviews Dr. Michael Canales, 1996 NCAA champion, about being performing at the Alumni Exhibition and his expectations for the Ohio State...
Rise is a moving, futuristic coming-of-age story about a group of high school students dreaming of being world-class entertainers. Under the direction of their...
Rise, An Acrobatic Play" Debuts At The Dr. Phillips Center For The Performing Arts On Saturday, January 16 Tickets Now Available for the Unique, Uplifting...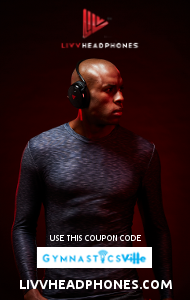 Ohio State's Sean Melton has signed with GymCrew Talent Management. Melton was named the 2018 Nissen-Emery Award winner. The award, which is college gymnastics...