Kerry Adderly, 3-Time All-American, Ohio State alum, talks to GymnasticsVille.com about next years Ohio State vs Oklahoma match up in Columbus on March 23th,...
Midknight Robin talks about the women's (1)Oklahoma vs.  (5)Florida Gymnastics Friday night match up and the (2)Penn State men's gymnastics match up against (3)Illinois....
Orlando, FL (May 17, 2017) – The 2017 Orlando Fringe Theatre Festival kicks off this week, including the return of the Kids Fringe Festival,...
The U.S. men's gymnastics junior program is loaded with world class talent. It's been a few years since I last attended the men's Junior...
Rise, An Acrobatic Play" Debuts At The Dr. Phillips Center For The Performing Arts On Saturday, January 16 Tickets Now Available for the Unique, Uplifting...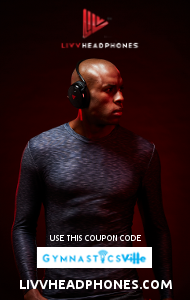 A day in the life of gymnast Michael Reid. It's routine day for the 2019 Jamaican World Team member, 2-time NCAA Champion.