Yul Moldauer discusses the US National team bonus scoring, college gymnastics, and more with his former 5280 Gymnastics teammates Taylor Burkhart (Stanford/US Senior National...
Midknight Robin host today show with Nissen-Emery award winner Sean Melton from Ohio State Gymnastics. Is the Ohio State vs Michigan rivalry in gymnastics...
After months of deliberating a handful of offers, World bronze medalist Yul Moldauer has signed a gymnastics apparel deal with GK Elite. "It's a huge...
Statement of Kerry Perry President and Chief Executive Officer, USA Gymnastics Hearing before the House Committee on Energy and Commerce, Subcommittee on Oversight & Investigations "Examining the Olympic Community's...
Date: May 12, 2015 Davenport, FL | Rehearsal Location | BatCave The cast of Rise are eights months from their debut performance and the scripts readings...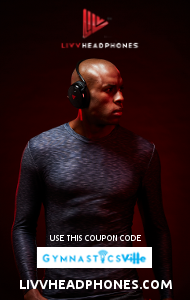 Yul Moldauer discusses Arthur Gander Memorial, Swiss Cup, and the  Bundesliga Gymnastics League. Yul interviews guest 2007 NCAA all-around champion Taqiy Abdullah-Simmons. Yul Moldauer is...