GymnasticsVille correspondent, Taqiy Abdullah-Simmons talks about the Olympic Hopes Cup that was held in the Czech Republic and men's gymnastics in Europe. Midknight and...
Midknight Robin talks about the women's (1)Oklahoma vs.  (5)Florida Gymnastics Friday night match up and the (2)Penn State men's gymnastics match up against (3)Illinois....
Two-time NCAA Champion Kanji Oyama signs with GymCrew Talent Management. Oyama, a seven time All-America is a U.S. National team member who trains at...
GymnasticsVille.com Midknight Robin, interviews Sean Melton, 2017 Big Ten all-around champion, about his expectations the team and preparations for the upcoming season. Stats via (ohiostatebuckeyes.com) 2017...
January 15th, 2015 | 24 hours before the debut in Orlando, FL | Rehearsal Location | Dr. Phillips Center for the Performing Arts For the Rise...
Midknight Robin talks with Ernesto Borges, Rise director of photography about life, sports, and becoming a wizard with multimedia. Ernesto Borges, an experienced visual...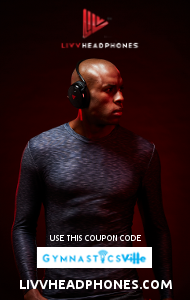 FORT WORTH, TEXAS -- Yul Moldauer has been preparing for this moment since 2016 Olympic Trials. During that quad many in the gymnastics community...