Kerry Adderly Motivational Speaking and Q &A at Victor Oladipo's Basketball camp Oklahoma City, Oklahoma. Kerry speaks about his youth, growing up playing basketball,...
Midknight, Remi, and Kerry give their thoughts on the new hire by the USA Gymnastics Men's Program and V.P. Dennis McIntyre. They are joined...
Stanford men's gymnastics wins session 1 with a 407.390. Head Coach Thom Glielmi talks about his team contending for a championship.
West Point, NY. Josh Yee (Oklahoma) high bar routine at the 2017 NCAA Gymnastics Championships. Music by Midwest Coast.
Midknight Robin talks with Ernesto Borges, Rise director of photography about life, sports, and becoming a wizard with multimedia. Ernesto Borges, an experienced visual...
Date: May 12, 2015 Davenport, FL | Rehearsal Location | BatCave The cast of Rise are eights months from their debut performance and the scripts readings...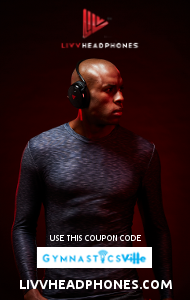 Ohio State's Sean Melton has signed with GymCrew Talent Management. Melton was named the 2018 Nissen-Emery Award winner. The award, which is college gymnastics...