Midknight, Remi, and Kerry give their thoughts on the new hire by the USA Gymnastics Men's Program and V.P. Dennis McIntyre. They are joined...
Colin Van Wicklen competed in his gymnastics season opener Saturday at the Houston National Invitational. Van Wicklen won titles on the floor, high bar,...
Sean Melton bones his parallel bar routine at the 2017 P&G Gymnastics Championships being held at the Honda Center.
Justin James talks about the Texas High School teams to look out for this weekend at State Championships. Coach James is the Head Coach...
January 15th, 2015 | 24 hours before the debut in Orlando, FL | Rehearsal Location | Dr. Phillips Center for the Performing Arts For the Rise...
Midknight Robin talks with Ernesto Borges, Rise director of photography about life, sports, and becoming a wizard with multimedia. Ernesto Borges, an experienced visual...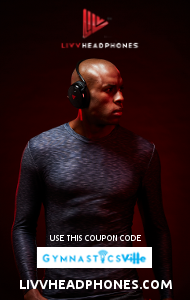 Ohio State's Sean Melton has signed with GymCrew Talent Management. Melton was named the 2018 Nissen-Emery Award winner. The award, which is college gymnastics...