With less than a month away, U.S. Gymnastics Championships will be here before we know it. Midknight Robin talks about the big match-up with...
Midknight Robin host today's show and gives his thoughts on the U.S. Men's Gymnastics Championships. Is Sam Mikulak the greatest U.S. gymnast of all-time,...
GymnasticsVille co-hosts Midknight Robin and Remi Marvin enjoying some music on the way to State Championships in Clearwater, Florida.
Clearwater, FL.- Benjamin Manzella (Level 6) from Orlando Metro Gymnastics on competing on high bar at the 2017 State Championships held at the Long...
Rise, An Acrobatic Play" Debuts At The Dr. Phillips Center For The Performing Arts On Saturday, January 16 Tickets Now Available for the Unique, Uplifting...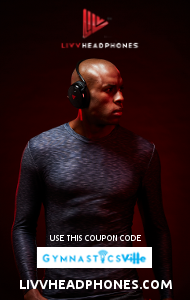 Yul Moldauer of 5280 Gymnastics led Team USA to gold in Sunday's  Pan American Championships in Rio de Janeiro, Brazil. The US men  (245.698)...