Taqiy Abdullah-Simmons, 2017 NCAA assistant Coach of the Year, talks to GymnasticsVille about USA Gymnastics senior national team progress at camp since P&G Championships....
Midknight Robin and 2018 World Team Member Colin Van Wicklen talks about Team USA's performance and Simone Biles. Marvin Kimble and Trevor Howard set...
Taqiy Abdullah-Simmmons, USA Senior National team coach, updates GymnasticsVille on the US men's gymnastics national team camp from the Olympic Training Center in Colorado...
Levi Anderson comes thru in the clutch for Oklahoma Men's Gymnastics and talks about the team recovering from injuries throughout the season.
Let's take a sneak peak into the House of Acro Ninja rehearsals as the Orlando Metro Gymnastics Boy's team prepare for their Kids OrlandoFringe...
Rise, An Acrobatic Play" Debuts At The Dr. Phillips Center For The Performing Arts On Saturday, January 16 Tickets Now Available for the Unique, Uplifting...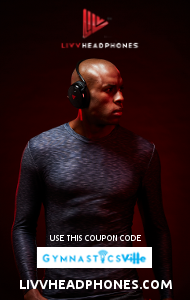 Ohio State's Sean Melton has signed with GymCrew Talent Management. Melton was named the 2018 Nissen-Emery Award winner. The award, which is college gymnastics...