As I suddenly awake to my 4:45 am alarm.  It felt like my head just hit the pillow to go to sleep. Norman is cold in January but an early morning  January is on a different level.  As I walk through the bitter wind that passes clean through my pants, it's a strong reminder, I am not in Florida anymore.  Four mornings a week the Oklahoma Men's Gymnastics team prepares for the never ending pursuit of excellence.  This is what a team does to win 81 straight, the longest winning streak in gymnastics history.  But like they say here in Oklahoma, each year it's different, each year it's a different team out on the floor.
Last years story-line was Can the OU men three-peat for the first time in Coach Williams tenure?
With a loaded veteran senior class of Allan Bower, Colin Van Wicklen, and Josh Yee they were determined to end their careers on a high note and make history on the way out.  In the end, the OU men's team were victorious and accomplished their goal of completing the three-peat.  The nations current longest win streak of any sport is still standing, orchestrated by legendary coach Mark Williams and his eight championship titles at the helm with Oklahoma.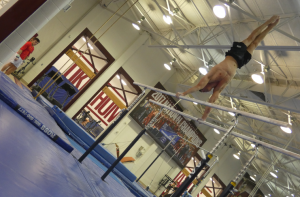 The current streak for the OU men's gymnastics team ranks ninth all-time in NCAA history.
Just ahead of the Sooners are the UCLA men's basketball who didn't lose a game from 1971 to 1974. Coached by Hall of Famer John Wooden, UCLA won the final three of its seven straight national championships during the Bruins' 88 game winning streak.  The All-time record of 137 consecutive wins belongs to the University of Miami men's tennis team who did not lose from 1957 to 1964.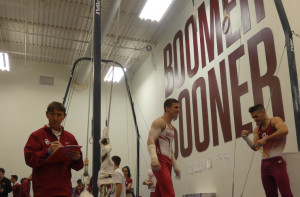 When asked coach Williams what it means to win 81 consecutive times  he says "We had a lot of great teams. The guys bought into a system, worked hard everyday and went out there and competed. We found a way to win in a lot of difficult situations over the past three years. The guys did a tremendous job and I'm proud of that, but you know it wasn't my intention necessarily to win every competition each year. The goal is to put ourselves in position to win championships, whether that be the conference or the NCAA Championships."
When asked the same question to last years team captain and USA national team member, Allan Bower said "It's pretty awesome to be a part of that and watch these guys training, working their butts off each and every day in the gym to keep the streak going.  It's just awesome to see that. I'm excited for them this year, to see them compete and this weekend coming up in Colorado.  Hopefully they keep the streak going all the way through the season."
Everyone in the gymnastics world is eager to see how the Sooners handle all the pressure this year of keeping the streak alive while also defending their title.
One of the team leaders, the nations best male gymnast Yul Moldauer is up for the challenge.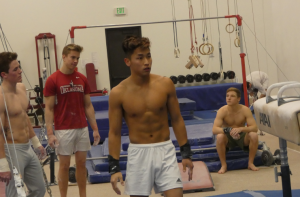 "It means alot.  It not just this current team here, it is also the previous team that's been through it. So it's a big honor.  You know personally, I don't think we're going to think about 82-0. We are going to reset, like Colin Van Wicklen used to say, we start from zero this year and hopefully we can continue this streak.  We do not need to focus on other teams.  We need to focus on ourselves.  This is the only thing we can control. What we do and how well we do it.  Right now it's all about the mental game." says Moldauer.
When is comes to the mental aspects of NCAA sports Taqiy Abdullah-Simmons, who was a part of five championships with the Sooners, three as an OU student-athlete and two championships as assistant coach was asked how he feels about the mentality of being on this streak?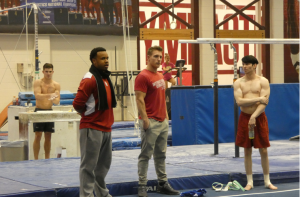 "The guys don't talk about it. Unless it is mentioned to them, it isn't really being discussed.  They understand it's about them getting better everyday and just taking care of that competition on that day.  They are so focused on the day to day they rarely stop to pay attention to something like the streak.  Before the actual number of 81 was mentioned to them a few days ago, they didn't know, they were guessing around 77 or 78." says, Abdullah-Simmons.
With just days away from Oklahoma's season opener in Colorado against Air Force we will all find out if their mental game is ready defy the odds and keep the historic streak going.