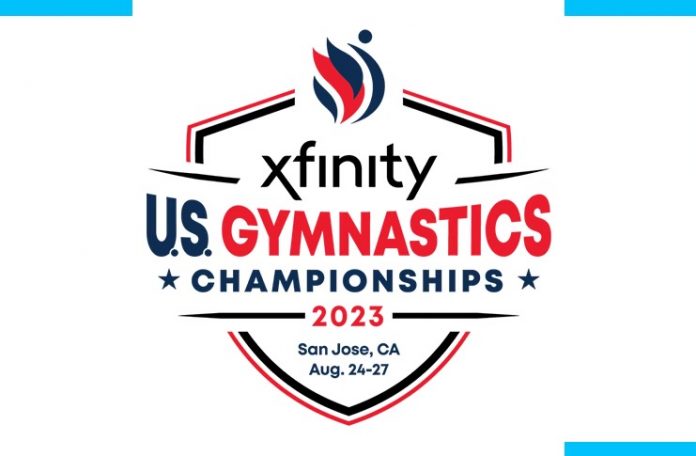 The countdown is on for one of the most anticipated events in the world of gymnastics, the 2023 Xfinity US Gymnastics Championships.
Scheduled from August 24th to 27th in San Jose, California, this spectacle is set to be an enthralling blend of well-established gymnasts and rising stars. Not only does it serve as a showcase of individual brilliance, but it is also a critical determining factor in deciding the U.S. Men's Gymnastics Team for the upcoming World Championships.
A Roster Packed with Talent: Veterans and Newcomers
Yul Moldauer, a seasoned athlete with accolades like a National Championship win at the 2023 Winter Cup and an All-Around title at the Pan American Championships, is unquestionably one of the pillars of the competition. Right on his heels, Shane Wiskus, who secured silver in All-Around at the 2023 Pan American Championships, brings a similar level of experience to the floor. Their participation undoubtedly sets a high standard for the championships.
Emerging athletes like Asher Hong, who won bronze at the 2022 National Championship, and Fred Richard, the 2023 NCAA All-Around Champion, bring a fresh wave of talent. Josh Karnes, another name gaining traction after finishing 6th in All-Around at the 2023 World University Games, adds to this youth brigade.
Not to be overlooked, Paul Juda, the 2022 NCAA All-Around Champion, is returning to the competition, sparking excitement among both fans and competitors who are keen to see if he still holds the magic.
The Trio to Watch: Asher Hong, Yul Moldauer, and Fred Richard
Asher Hong, Yul Moldauer, and Fred Richard form a unique trio that's hard to ignore. They hold the year's three highest All-Around Start Values and scores, suggesting they're almost indispensable to the U.S. Men's Gymnastics Team for the World Championships. Moldauer's long-standing experience, having been part of five World Championship squads, makes him an invaluable asset, especially for Fred Richard, who would be making his World Championship debut.
Filling the Gaps: The Remaining Two Spots
The last two team slots are anyone's game, and consistency will be the linchpin for selection. Shane Wiskus stands a good chance if he maintains his form on Floor Exercise, Parallel Bars, and Horizontal Bar. Khoi Young, another strong contender, has shone throughout 2023 and could make the cut if he delivers on Floor Exercise, Pommel Horse, and Vault. Curran Phillips could sneak into the team with strong performances in Parallel Bars and Horizontal Bar, given that he is limited to only three events.
Paul Juda has re-entered the conversation with his impressive 5.6 vault. If he nails that in San Jose, he could make a compelling case for inclusion. Athletes like Riley Loos and Josh Karnes could capitalize on their consistency, despite lacking the Start Values of the established trio. The situation is fluid, with even last year's World Championship team members like Colt Walker, who is still not in top form from an injury, and Donell Whittenburg having an outside chance if circumstances change.
The Surprising Weak Link: Floor Exercise for Team USA
Contrary to popular belief, Team USA's weak link in recent years hasn't been the Pommel Horse or the Horizontal Bar; it's actually the Floor Exercise. Despite a reputation for strength in this area, data from the 2021 Olympics and 2022 World Championships tells a different story. Only two routines have scored above an 8.0 in execution and just one has surpassed 14, leading to recent 7th and 8th place finishes in this event.
Yul Moldauer and Asher Hong are not just routine contributors; they're vital to elevating Team USA's performance on Floor Exercise. Their proven track record in this event could be the key to flipping the script for the American team.
Events and Contenders: A Comprehensive Look
Floor Exercise:
This event demands immediate attention with a powerhouse lineup of athletes like Connor McCool, Yul Moldauer, and Asher Hong. Moldauer, a seasoned competitor, is invaluable to the field, while the emerging Asher Hong adds a layer of fresh dynamism. Other athletes to keep an eye on include Shane Wiskus, Kameron Nelson, Fred Richard, Donell Whittenburg, and Jackson Harrison.
Pommel Horse:
Traditionally considered a challenging event, the Pommel Horse has a robust lineup this year. 2021 World Champion Stephan Nedoroscik will look to lock down the championship and secure a spot on the National Team. Patrick Hoopes and Khoi Young are also promising athletes likely to offer stiff competition to All-Arounder gymnasts like Yul Moldauer and Fred Richard.
Still Rings:
An event that calls for raw power and a steady hand, the Still Rings will feature the indomitable spirits of Alex Diab, Asher Hong, and Donell Whittenburg. Additional competitors to keep an eye on include Riley Loos, Javier Alfonso, Brandon Briones, and Yul Moldauer.
Vault:
The Vault is a high-stakes event where a step out of bounds can make or break a score. Asher Hong, Paul Juda, and Khoi Young will be the ones aiming for those flawless landings. Josh Karnes and Riley Loos will also be vying for top honors in this event.
Parallel Bars:
Parallel Bars is teeming with talent this year. With athletes like Curran Phillips, Yul Moldauer, and Asher Hong leading the pack, the competition promises to be intense. Other competitors such as Colt Walker, Shane Wiskus, Fred Richard, Josh Karnes, Blake Sun, and Cameron Bock add further intrigue to this already high-stakes event.
Horizontal Bar:
The Horizontal Bar is shaping up to be an electrifying competition with Fred Richard looking like a sure-fire top honors winner. Gymnast and team members like Paul Juda and Crew Bold would like to rock the apple cart by targeting top honors. Additional contenders include Curran Phillips, Shane Wiskus, Yul Moldauer, Asher Hong, J.R. Chou, and Taylor Burkhart. Each athlete brings a unique skill set, making this event one of the most unpredictable and thrilling to watch.
Conclusion: A Collision of Legacy and Aspiration
As the anticipation reaches a fever pitch, the 2023 Xfinity National Gymnastics Championships promise to be a showcase of jaw-dropping talent, fierce competition, and undying aspiration. With iconic veterans like Yul Moldauer and tantalizing newcomers like Fred Richard and Asher Hong, the event will be an extraordinary blend of experience and youth. The road to the World Championships will not be a mere path—it will be a battleground. In an event where even a single misstep can alter destinies, the stakes have never been higher.
The gymnasts are set to dazzle, setting the stage for a future as bright as their dazzling performances. Floor Exercise, Pommel Horse, Vault, or Horizontal Bar—each event promises a nail-biting contest of who wants it more, who has prepared better, and who can make that crucial difference when it counts the most.
Buckle your seatbelts and mark your calendars. The championship is not just an event; it's a celebration of athleticism, discipline, and dreams in the making. Whether you're a die-hard gymnastics fan or a newcomer to this fascinating world, prepare to be swept off your feet. The air is thick with the spirit of competition, and every flip, turn, and vault is set to write a new chapter in the history of U.S. Men's Gymnastics.
Don't miss this seismic collision of legacy and potential, a monumental spectacle that will be broadcast live on NBC and NBCSN, or get your tickets now at US Gymnastics Championships to witness history in the making. San Jose, the gymnastics world is watching, and the athletes are ready to give it their all. Get ready for a week of gymnastics that will keep you on the edge of your seat!
For more details, head over to the official event website. Trust us, you won't want to miss this.
Your eyes won't believe what your heart will feel. See you in San Jose!