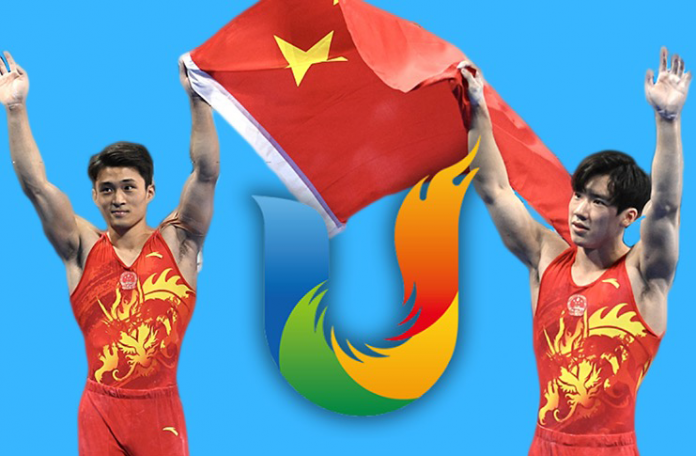 In the aftermath of a fiercely contested World University Games, the Chinese Men's Artistic Gymnastics (MAG) team shone brilliantly, clinching 4 Gold Medals. Their crowning achievement was the Team Gold, accentuated by Zhang Boheng's win in the All-Around Gold, where he narrowly bested teammate and rising star Shi Cong. A last-minute stumble on the High Bar by Boheng almost saw Shi Cong seize the victory. 
With the fervor of their home crowd in an almost packed stadium, Team China lived up to expectations. Stellar performances from Boheng and Zou Jingyuan were pivotal in China's triumph over a formidable Japanese team, which proudly secured second place. Their ranks included Tokyo Olympic All-Around Champion, Daiki Hashimoto. Japan didn't leave without individual accolades, with the consistent Kazuma Kaya securing Gold on the floor.
On the afternoon of August 4, China's Zhang Boheng won the gold medal at the final of men's all-around gymnastics; Shi Cong won the silver medal at the event in the Chengdu FISU World University Games. pic.twitter.com/3QJtTMH9LT

— Nash Yu (@NashYu10) August 4, 2023
Team USA deserves commendation, especially given the challenges they faced regarding funding prior to the competition. They narrowly missed the team bronze, lagging by just 1.466 points behind the impressive South Korean team, headlined by the emerging talent Ryu Sungjyun. 
USA's efforts were bolstered by University of Michigan's NCAA All-Around Champion, Fred Richard, and Penn State All-American Josh Karnes. Both athletes secured top 6 finishes in the All-Around category.
An impressive finish from Fred Richard and Josh Karnes in the World University Games All-Around Final as both land in the Top 10!

Fred Richard ➡️ 4th, 83.764
Josh Karnes ➡️ 6th, 82.664 pic.twitter.com/3ohphfWdit

— USA Gymnastics (@USAGym) August 4, 2023
 On the individual front, Milad Karimi left a significant mark with 3 individual medals. His breathtaking high bar routine, showcasing the spectacular Kovacs Kolman connection, was a standout. Additionally, Karimi clinched a Silver on the Floor and a Bronze on Vault. Lee Chih-Kai continued his dominance on the Pommel Horse with his signature flair work. China's Lan Xingyu exhibited sheer strength, securing gold on the still rings with an impressive 15.366. Ukraine's Nazar Chepurnyi vaulted his way to gold, while the incredible Zou Jingyuan notched up an awe-inspiring 16.066 on Parallel Bars, besting Silver medalist Kaito Sugimoto by a notable margin.
The World University Games in Chengdu provided an exhilarating prelude for enthusiasts awaiting the upcoming World Championships and the Asian Games. Both China and Japan are anticipated to showcase elite teams, heightening the anticipation for the events ahead.