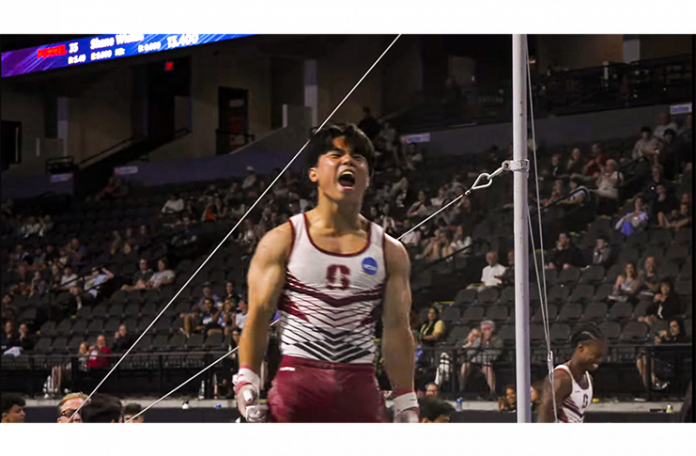 On a bright Sunday, August 6th, the Now Arena in Hoffman Estates, Illinois was alive with energy and passion as the best of US gymnastics showcased their prowess. The 2023 US Classic, which serves as the qualifying competition for the US Championships in San Jose, was nothing short of spectacular.
Emerging as the crowning glory, Asher Hong from Stanford clinched the All-Around title with a sterling score of 85.305. But this isn't his first rodeo. Asher looks to recreate the magic of last year and, judging by his form at the Classic, he seems on track. In fact, with his impeccable form and high start value bonus on Rings, Vault, and Floor, many are already pegging him as the favorite for the All-Around National title at the upcoming US Championships.
Asher Hong: another day, another Ri Se Gwang

Score ➡️ 15.705#CoreClassic | @StanfordMGym | @TeamUSA pic.twitter.com/s1oPxC5nAa

— USA Gymnastics (@USAGym) August 6, 2023
Following closely were Stanford's Khoi Young with a score of 83.424 and Michigan's Paul Juda finishing strong at 83.354. Young showed resilience, nailing 5 out of his 6 routines. A notable highlight from Juda was his unveiling of a new vault, the yurchenko double pike, the same iconic vault performed by Simone Biles a night earlier.
Taking a strategic detour, Olympians Shane Wiskus (EVO) and Yul Moldauer (5280) opted out of the All-Around, viewing the Classic as a tune-up for the US Championships later this month. While Wiskus showcased his supremacy on the highbar, Moldauer, ever the perfectionist, executed a commendable pbar set. True fans know that this is just a precursor, and Moldauer's real game will shine in San Jose.
Meanwhile, World Champion Stephen Nedoroscik held his own with a flawless pommel horse routine, while college sensation Conner McCool unleashed his beast mode to dominate the floor.
Among the steady performers was Riley Loos (Stanford), who made a mark throughout the day. Curran Phillips (EVO) impressed on the parallel bars, while Donnell Whittenburg's strong display on Rings was slightly overshadowed by his struggles on the pommel horse. But knowing Whittenburg's grit, a comeback at the US Championships is highly anticipated.
Keep an eye on the underdogs: Brandon Briones (Stanford) who scored brilliantly in three events and Cameron Bock (Michigan) who finished 4th All-Around, delivering one of his best performances in recent years. Both gymnasts hint at a resurgence that could be game-changers in San Jose.
The atmosphere in the arena was electric, at times feeling reminiscent of a high-stakes college meet. For many gymnasts, this was their golden opportunity to leave a mark on the national stage. Only 16 out of the whopping 132 gymnasts who weren't prequalified will proceed to the US Championships. It's a testament to the immense talent in the US gymnastics circuit.
Conclusively, the 2023 US Classic was an embodiment of talent, passion, and the promise of a brighter tomorrow for senior elite men in US gymnastics. As we countdown to the US Championships, stakes are high, hopes are higher, and the air is thick with anticipation.