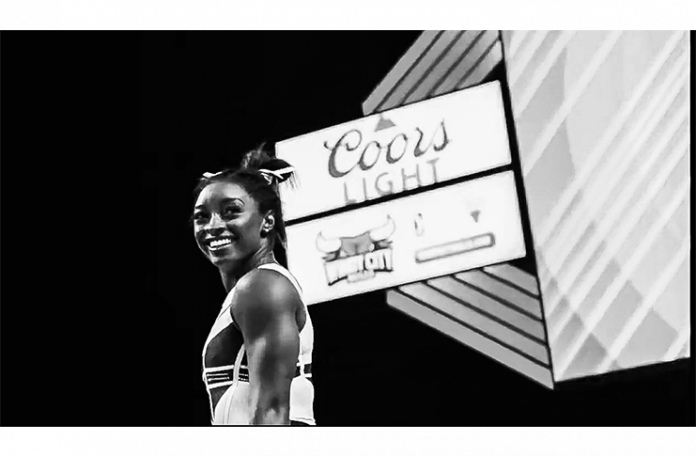 In the bustling ambiance of the Now Arena in Hoffman Estates, Illinois, a sellout crowd bore witness to the triumphant return of the gymnastics powerhouse, Simone Biles. The gymnastics community had clearly missed her, coming out in droves to cheer her on. Biles did not disappoint, showcasing a display of world-class gymnastics, culminating in her clinching the All-Around title with a remarkable score of 59.1. 
The magnitude of Simone's skill was evident when you considered that her score was a solid five points ahead of the second-placed all-arounder, Leanne Wong. Observing Simone in action after her hiatus, it was undeniable that this time around there was something different about her performance. As a spectator, one could sense Simone's rejuvenated spirit; she was in complete control, beaming with happiness, and exuding confidence.
Biles kicked off the competition on bars, executing a clean set. Despite having to fight the handstand on her toe-on blind full, she recovered seamlessly, effortlessly connecting it to her full twisting double back dismount. A well-deserved score of 14.0 was the result. But that was just the beginning.
Taking to the beam next, Simone showcased a performance that was nothing short of breathtaking. She was laser-focused, traversing the beam with the grace and precision we've all come to adore. Her score? A commendable 14.8.
The floor exercise saw Simone at her absolute best. Her landings were impeccable, and her routine boasted a perfect blend of double flips, twists, and double laid-out flips. It was a testament to her unparalleled blend of raw power and refined technique. 
The climax of the evening was Simone's breathtaking yurchenko double pike vault. A move of such complexity and grace that, if showcased in an international competition like the World Championships, would be aptly named the "Biles".
SIMONE. FREAKING. BILESpic.twitter.com/FkKj6p4ha3

— USA Gymnastics (@USAGym) August 6, 2023
On her impressive vault, which earned a score of 15.4, Simone humbly stated, 
"We trained it so much. And Laurent and Cecile are amazing coaches, so I can't owe it all to myself. I owe it to my coaches and my teammates who have the same belief in me day in and day out of the gym. So I'm really proud to be representing WCC."
Indeed, the evening was filled with profound moments that evoked intense emotions from the audience. When probed about her feelings competing that night, Biles shared, 
"it felt really good, especially after everything that's happened over the past year. 
Everyone that was cheering, made posters and all of that in the crowd. It just made my heart melt that they still believe in me. I got back out here and I did what I was training, so."
The overwhelming support was clearly visible. From teary-eyed junior gymnasts to ardent fans with placards, Simone felt it all. On this, she expressed, 
"It means the world because after everything that transpired in Tokyo and I took a lot, I worked on myself a lot, I still do therapy weekly. And it's just been so exciting to come out here and have the confidence I had before that, especially after everything that happened, reading those comments, everybody still celebrating me and wanting me to do so well. It means the world because I feel like I lost a part of that sometimes. And so to come back out here and to just do what I did tonight and have that support from the fans and everybody watching, I just couldn't thank them enough."
Regarding the prospect of competing at the 2024 Olympic Games in Paris, Biles revealed, 
"We're still in the working steps. My main goal was this and then championship. And then after that, we'll look on to worlds and then we'll see. But so far it's heading in the right direction. But I have stuff to work on myself. I'm still going to do my therapy. I'm going to put myself first. One day at a time."
Mark your calendars, for Simone Biles will be taking the stage again at the US Championships in San Jose, California from August 24-27, 2023. After the stellar performance we just witnessed, expectations are soaring high.
Gymnastics, with its twists and flips, feels right again, especially with Simone Biles gracing the competition floor. This evening wasn't just about scores and medals; it was about resilience, hope, and the indomitable spirit of an athlete who has faced her trials and emerged stronger than ever.