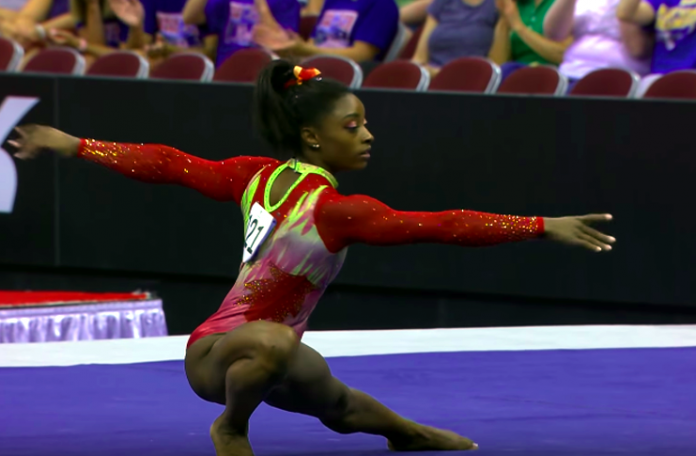 The most anticipated comeback ever for a U.S. Gymnast is now complete. On Saturday July 28th in Columbus, Simone Biles wins the all-around, floor, and beam titles at the 2018 GK U.S. Classic.  Riley McCusker and the 2017 World Champion Morgan Hurd finished up second and third all-around at this past weekend's competition.
"I figured out for me, it's to comeback and have fun and really enjoy the sport.  Not to set to many expectations for myself because I met a lot of those in the last quad."  Said Simone Biles after winning the All-Around title.
Bottomline, Simone looked good.  Far from perfect, she had a fall on bars but on the other events she posted the highest scores of the night with a 14.750 (Floor), 15.200 (Beam), 15.400 (Vault), and 58.700 (All-Around).
"There's still a lot to work on — work on the nerves, work on the consistency, work on the landings — but for this point, at this time in the year, I think we're in a pretty good place," Biles said.
Biles revealed a new vault called the Cheng.  It is a round-off, half-on, with a front one and half twist off the vault table.  Biles made it look effortless. She also competed for the first a double twisting double layout on floor.  It was so huge many feel that Simone could add an extra twist if she wanted.
In the end, Simone Biles did enough to win the all-around by 1.2 points.  Even with a off day she is still the best in the country and will be looking to be even better at next months U.S. Gymnastics Championships in Boston.
"It's great to see that she still has it inside of her," said Laurent Landi, who is Biles' co-coach along with his wife, Cecile. "Now she needs to build on this and to take all the positives out of it."
Listen to full show below. Subscribe to GymnasticsVille on iTunes
Midknight Robin hosts today's show with Jeffrey T. Brown. The guys talk about the GK U.S. Classic.
Podcast: Play in new window | Download