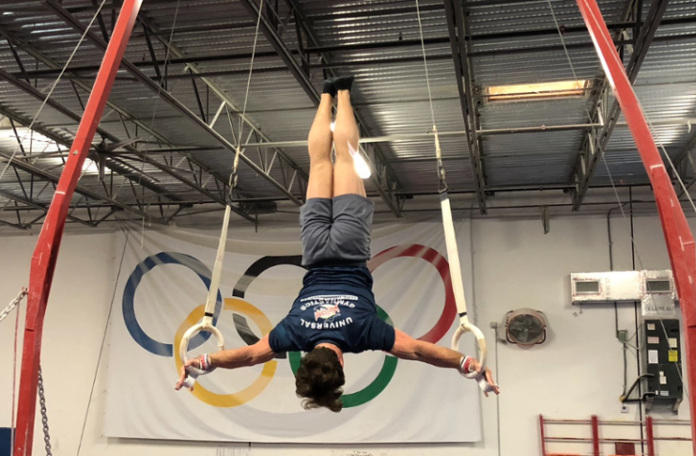 Qualifying to the U.S. Gymnastics Championships is no easy feat.  Being one of the top 36 male gymnasts in the country takes grit, determination, and you have to be clutch to hit your routines when it matters the most.  Universal Gymnastics' Tyler Schaal is a powerful vaulter and very strong on rings who will be competing at the championships in Boston August 16th-19th.
At last year's National Qualifier, Tyler Schaal tore his pectoralis major tendon while performing his ring routine and that ended his season short.  More determined than ever, Tyler began the rehab and recovery process. Fast forward to the 2018 National Qualifier. Tyler was healthy and redeemed himself by competing on four events and qualifying to the U.S. Championships.
"It actually feels pretty good.  It took a week or so for it all to set in that I finally qualified." said Schaal.  Tyler has been training with one of the best coaches in the world, Yin Alvarez.  For the last eight seasons, he has been instrumental in helping him accomplish one of his major goals.  
"We went in with a different mentality then I'm used to.  We went in with, that I have nothing to lose. And just trying to prove to myself that I could do it after having surgery and going through the rehab.
"We wanted to do exactly what I've been doing in the gym.  I was hitting all my routines in the gym and I wanted to do that.  We knew the altitude (in Colorado) would be a challenge but I already had the other years of experience dealing with it.  I came out qualifying and we are very happy about it." Says Schaal.
For Tyler, the U.S. Gymnastics Championships will be his first U.S. national competition ever. Due to past untimely injures, he never competed at the Junior Olympic National Championships. This is just the beginning for Tyler and the gymnastics world is ready to see what he can do on the national stage.
Listen to full show below. Subscribe to GymnasticsVille on iTunes
Podcast: Play in new window | Download