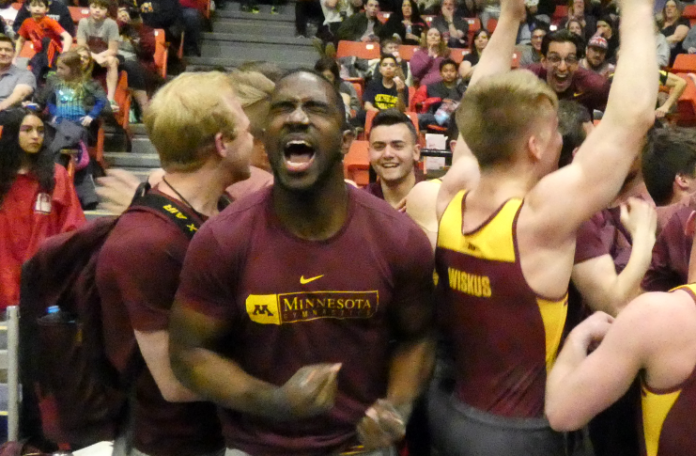 It takes a big time gymnast to make big things happen. Two-time all-american Jalon Stephens from the University of Minnesota, helped lead his team to their highest finish in program history at the 2018 NCAA Gymnastics Championships. His leadership and confidence in his team was vital in Minnesota being a force to be reckoned with this year.
When asked what it felt like to perform so well at the championships Jalon said. "It was a great experience, we went out there and had a goal. We wanted some hardware. We needed to hit our routines and believe in each other. And that's what we did. I love my brothers. We came out on top and we were there for each other."
During team finals Minnesota started off the competition on highbar an event where they did not perform their best at the 2017 NCAA Championships. But Jalon believed this year would be different. "I kept telling them, We are a better team, we are a stronger team. it's our day." Says Stephens. "Starting on highbar I just wanted to get the team hype, get the crowd hype." And that is exactly what Jalon did. He performed one of his best high bar routines ever and provided a much needed spark for his team to start off the competition and the rest is history.
Minnesota Gopher teammate and the 2018 Canadian parallel bar champion Justin Karstadt fed off of Jalon's energy. "Jalon Stephens is one that always ramps the energy level up. We started on high bar and to be honest we were a little nervous starting on highbar because the year before we started on high bar and it did not end too well. Having Jalon doing his high bar routine in the first rotation, he absolutely nailed it. From there we got the ball rolling." Said Karstadt.
Jalon is planning on continuing the momentum by competing for one of fourteen spots for the national team at the upcoming U.S. Gymnastics Championships on August 16-19 in Boston. If Jalon can hit his stride and string together twelve hit routines over a two day period, he will have a good of a shot as anyone to represent Team USA on the national team.
Listen to full Interview below. Subscribe to GymnasticsVille on iTunes
Podcast: Play in new window | Download