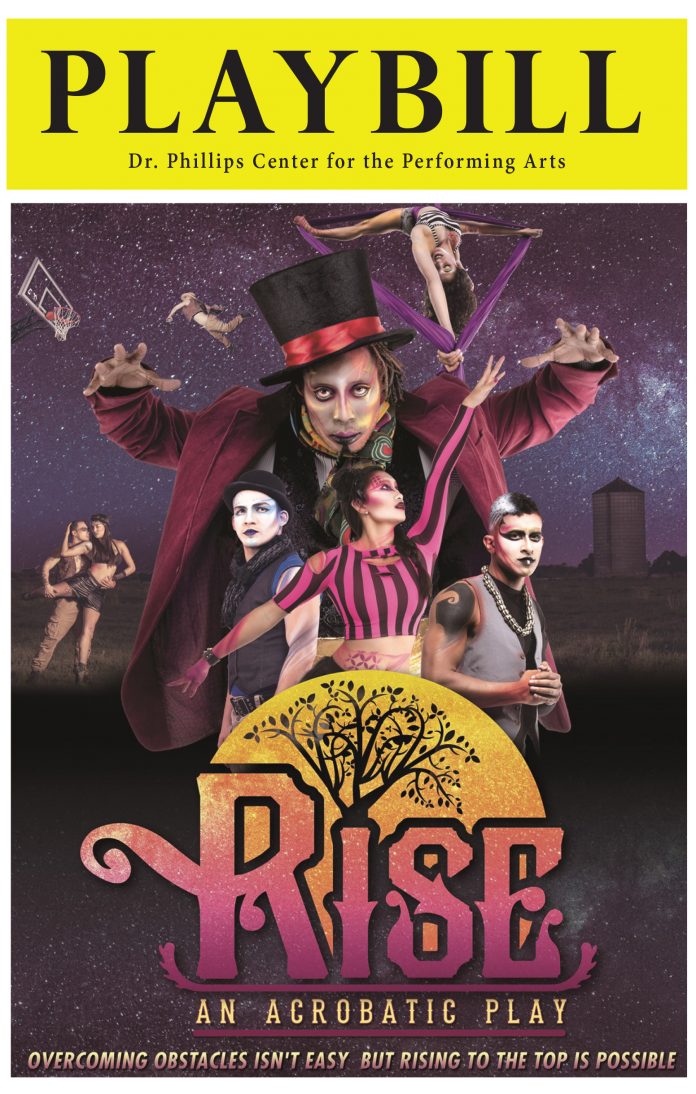 Rise, An Acrobatic Play" Debuts At The Dr. Phillips Center For The Performing Arts On Saturday, January 16
Tickets Now Available for the Unique, Uplifting Show Experience that Combines Theatre, Acrobatics and Dance… Written and Directed by Four-Time NCAA Gymnastics Champion Taqiy Abdullah-Simmons
Orlando, FL – Tickets are now on sale for "Rise, An Acrobatic Play," the unique, high-energy, awe-inspiring production that combines theatre, acrobatics and dance for an entirely new theatrical experience. Written and directed by four-time NCAA Gymnastics Champion Taqiy Abdullah-Simmons, choreographed by former U.S. Tumbling and Trampoline National Team Member Jeffrey Brown, produced by Gym-Crew Freestyle Acrobatics Co-Founders and Creators Mubarak "Mo" Abdullah and Kerry Adderly, combined with an all-star cast, Rise tells the story of high school students who hope to become world-renowned entertainers. Rise will be performed on Saturday, January 16, 2016 at the Walt Disney Theater of the Dr. Phillips Center for the Performing Arts in Downtown Orlando at 7pm. Tickets start at $33.75.
Rise is a moving, futuristic coming-of-age story about a group of high school students dreaming of being world-class entertainers. Under the direction of their new Diverse Physical Talents teacher, Mr. Sam Simon, each student hopes to achieve greatness and win one of two paid understudy roles in the Dream Empire, a well-known traveling circus. As the students improve upon their talents and performance presence, they struggle to keep love, friendship and rivalry balanced in their lives. Rise is a new theatrical experience that will electrify the mind and inspire audiences to overcome all obstacles and rise to the top. Local Central Florida performers Tiffany Lamwatt and Felix Betancourt play the lead roles of Max and Courtney, and 2007 World Gymnastics Champion Shayla Worley makes a special appearance as Julie.
Writer and Director Abdullah-Simmons holds a standout career as a gymnast, from winning a junior national all-around title in 2002 at the age of 15 to becoming the first African-American gymnast to win the NCAA All-Around title in 2007, while a student at Oklahoma University. When asked to explain what the play is about, he says: "Rise is about the constant struggle of life and rising from life's challenging circumstances. We all have stories of setbacks and unfulfilled goals, but every day we are rising back from these circumstances. Rising in life happens only once we have fallen. The beauty of life is that we do rise. We do have stories of people who accomplish amazing feats after tragedies, and Rise was inspired by someone who needed to rise from his own life's setback."
Experience "Rise, An Acrobatic Play" January 16 at the beautiful Walt Disney Theater of the Dr. Phillips Center of Performing Arts located at 445 South Magnolia Avenue, Orlando, FL 32801. Tickets start at $33.75. Group discounts available. Preview Rise at https://www.youtube.com/watch?v=RxJmFBGkeZQ&feature=youtu.be. For more information and to purchase tickets, visit www.risetheplay.info and www.drphillipscenter.org.