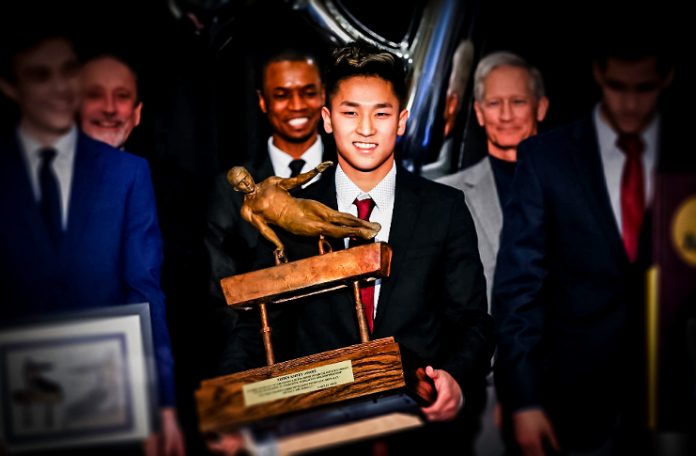 Yul Moldauer has signed with GymCrew Talent Management (GCTM). The company announced their partnership with the 7-Time Individual NCAA National Champion Moldauer on Thursday, June 6th. Kerry Adderly will represent the presumed top gymnast in the country. A generational talent, Moldauer sets his sights on competing in Tokyo for the 2020 Olympic Team USA Gymnastics squad.
"Yul is in a marketing class of his own, he has the potential to alter our conception of what a male gymnastics star in this country can be. His strength and skill set is impressive, but it's his personal appeal, humble perception, and competitive fire that gives him great marketability." Says Taqiy Abdullah-Simmons, GCTM Vice President of Sports Performance. "Yul also has an exceptional ability as a leader which makes any team that he is on a threat to contend for medals on the international stage."
Adderly represents a number of gymnastics Olympic hopefuls, including Colin Van Wicklen, Sean Melton, Marvin Kimble, Kanji Oyama, and Michael Reid.
Moldauer is a unique and charismatic gymnast with a strong following in the sport. Yul was the winner of the 2019 Nissen-Emery Award, honors the top male collegiate gymnast in the country. Moldauer is expected to compete at U.S. Gymnastics Championships on August 8th-11th in Kansas City, Mo. In the 2018-19 season, Moldauer won all-around titles at the Winter Cup Challenge and the American Cup. At the 2017 World Championships captured a bronze medal on Floor Exercise.