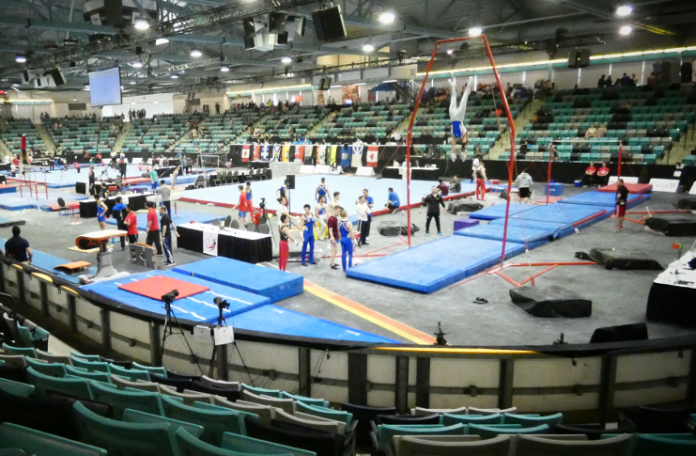 Gymnastics in Canada is on the rise and at this year's championships every skill level was on full display. The fans at the Waterloo Memorial Recreation Complex were buzzing with excitement to see Canada's best gymnasts compete for national pride. Ellie Black and René Cournoyer won all-around titles at the 2018 Canadian Gymnastics Championships. Black put on a show and dazzled the arena with her floor and bar routines.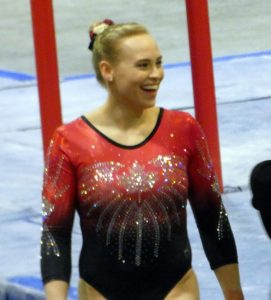 "It was incredible being back here competing with the girls," said Black who won a silver medal in the all-around at the 2017 World Championships. "To come out here and to finish with another Canadian Championship title is great. It wasn't really my goal coming in to this weekend, I was just looking to do good gymnastics, but I was really proud of everyone's performances this weekend."
Cournoyer was the MVP of the weekend by hitting all his sets on the men's side. He qualified for all six event finals while finishing top four on each and performed a mix of difficult skills with clean execution. "It's been a huge weekend. It was a lot of fun and I'm very happy with everything I did," said Cournoyer.
Jackson Payne, finished the weekend with three silver medals in the all-around, parallel bars, and high bar. During the Canadian Gymnastics Championships high bar event finals, the Canadian fans were ready for his routine with high-flying release moves. When he stuck his laid out double double dismount, there was an eruption of cheers. Scott Morgan and Thierry Pellerin won gold on floor and pommel horse. Kevin Hamilton finished on top with his multiple release move routine on high bar and James (Xuon) Luo won rings with his superhuman strength skills.
There were seven NCAA men gymnasts competing at the Canadian Championships. Jake Bonnay (Nebraska), Samuel Zakutney (Penn State), Aaron Mah (California), Joel Gagnon (MInnesota), Wyatt Tyndall (Penn State), Justin Karstadt (Minnesota), and Sam Ito (Oklahoma).
Karstadt, fresh off of leading the University of Minnesota to a team silver, their highest program finish ever at the 2018 NCAA Championships, won gold on the parallel bars. Continuing his postseason success, Zakutney won silver on vault with a powerful handspring double front, and placed fourth in the all-around with a 76.650. Mah, University of California, captured a silver medal on floor with strong tumbling moves and good landings.
2018 Canadian Gymnastics Championships Results
All-Around – Canadian Gymnastics Championships
René Cournoyer 83.1 (1)
Jackson Payne 81.5 (2)
Cory Paterson 78.7 (3)
Samuel Zakutney 78.650 (4)
Zachary Clay 78.2 (5)
Darren Wong 78.050 (6)
Devy Dyson 77.950 (7)
Jeremy Bartholomeusz 77.7 (8)
Ryan Oehrlein 76.9 (9)
Aaron Mah 76.4 (10)
Floor – Canadian Gymnastics Championships
Scott Morgan 13.950 (1)
Aaron Mah 13.650 (2)
René Cournoyer 13.600 (3)
Wyatt Tyndall 13.500 (4)
Joel Gagnon 13.350 (5)
Jake Bonnay 13.100 (6)
Samuel Zakutney 12.450 (7)
Pommel Horse – Canadian Gymnastics Championships
Thierry Pellerin 14.750 (1)
Zachary Clay 13.150 (2)
René Cournoyer 13.100 (3)
Justin Karstadt 13.050 (4)
Evan Cruz 13.000 (5)
Darren Wong 12.450 (6)
Cory Paterson 11.700 (7)
Jackson Payne 10.650 (8)
Rings – Canadian Gymnastics Championships
James (Xuon) Luo 14.400 (1)
Chris Kaji 14.200 (2)
René Cournoyer 14.100 (3)
Ryan Oehrlein 14.050 (4)
Wolfe Gazer 13.400 (5)
Damien Cachia 13.350 (6)
Carter Shelton 13.050 (7)
Zachary Clay 12.650 (8)
Nicholas Mallia 12.250 (9)
Vault – Canadian Gymnastics Championships
René Cournoyer 14.600 (1)
Samuel Zakutney 14.350 (2)
Scott Morgan 13.950 (3)
Samuel Gaudet-Pellerin 13.850 (4)
Wolfe Gazer 12.950 (5)
Carter Shelton 12.850 (6)
Parallel Bars – Canadian Gymnastics Championships
Justin Karstadt 14.300 (1)
Jackson Payne 14.200 (2)
René Cournoyer 14.000 (3)
Kevin Lytwyn 13.800 (4)
Wyatt Tyndall 13.750 (5)
Ryan Oehrlein 13.450 (6T)
Samuel Zakutney 13.450 (6T)
Evan Cruz 13.350 (8)
High Bar – Canadian Gymnastics Championships
Kevin Lytwyn 14.850 (1)
Jackson Payne 14.350 (2)
Cory Paterson 13.600 (3T)
René Cournoyer 13.600 (3T)
Scott Nabata 13.550 (5)
Samuel Zakutney 13.100 (6)
Jeremy Bartholomeusz 12.400 (7)
Zachary Clay 10.100 (8)

Podcast: Play in new window | Download