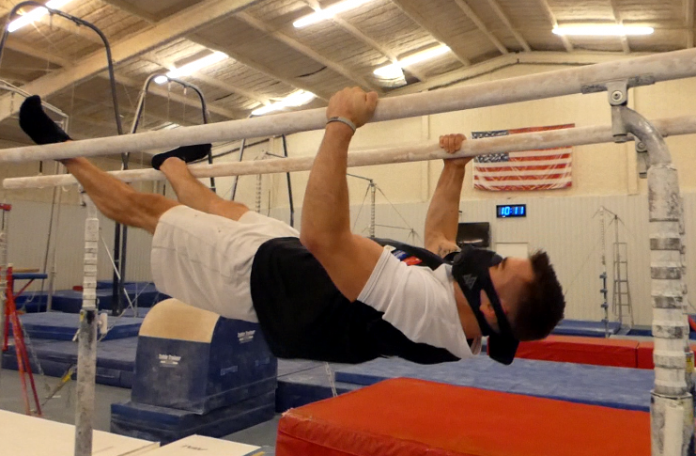 Last week the USA Gymnastics Men's National team had their official training camp in Colorado Springs at the Olympic Training Center. GymnasticsVille.com caught up with Colin Van Wicklen, 12-Time NCAA American, who trains at Cypress Academy under head coach Tom Meadows about his experience at camp.
G: How was your training at the USA Gymnastics Men's National Team Camp?
Colin Van Wicklen: Training was awesome. I am preparing for the US qualifier so I am starting routines and It was great to have the best gymnasts in the country pushing me and helping me get through. It was awesome to show off some new skills and overall progress on some events. It was also good to see that I am right on track with the national team in my strength, routines, and new skill development.
G: How did it feel to train with the USA Gymnastics Men's Senior National Team?
Colin Van Wicklen: Intensity is the word to describe this camp. Guys were training so hard, throwing new skills, and were extremely focused. This was by far the best National team camp I have ever been too. It was extremely motivating to look around the gym and see everyone working hard, pushing upgrades while still focusing on execution. Even the national team basics were taken extremely seriously. Besides training we also had time to talk about our goals and how we will reach them for World Championships and the Olympic Games in 2020.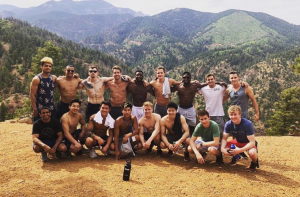 G: How do you feel the team looks as everyone prepares for upcoming U.S. Gymnastics Championships & World Championships?
Colin Van Wicklen: The team looks awesome. I think this is the strongest the national team has been in years. The level of difficulty we are striving for is competitive with the rest of the world. Guys are already working on 1/2 sets which is a good sign that everyone will be ready for U.S. Championships. I truly believe we have the talent to win a team medal at the 2018 world championships.
G: What will it take to be successful at U.S. Championships?
Colin Van Wicklen: One of my favorite quotes of all time is "luck is what happens when preparation meets opportunity." We will have the opportunity to not only win a team medal but to prove to the rest of the world that team USA is a dominant force in men's gymnastics. We just need to prepare. All of the routines, conditioning circuits, basics, recovery, and diet will play a part of this team being as prepared as possible. We as a team, are already striving to create a winning culture that will help us to win a team medal this year. And when that opportunity comes all we will have to do is raise our hands and let it rip. There is a banner at the Olympic Training center that says "Risk everything. Regret nothing." And I guarantee you that we are training hard, preparing hard so we achieve our goals. It's time to shock the world!