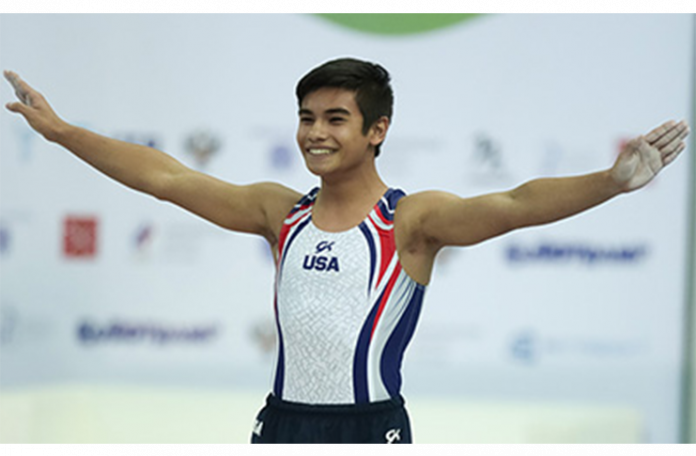 Orlando, FL ~ 3-Time World Silver Medalist Ruben Padilla confirmed that he has officially signed with GymCrew Talent Management, joining a stable of clients that includes U.S. Olympian Yul Moldauer, 2018 World Team member U.S. Colin Van Wicklen, and 2019 Jamacian World Team member Michael Reid. 
Padilla captured three gold medals at the 2021 Senior Pan American Championships. "I am very excited to work with GymCrew. I feel like it is a really big step for me. I'm not only excited for them to help me but also to help them anyway that I can. Kerry called and he talked about himself and what GymCrew is all about." Says Padilla. "It got me really invested and intrigued. We will be working on getting more sponsorships and getting my name out there."
Padilla is a two-time World Championships double mini silver medalist and a four time US senior national team member who trains at Wasatch Trampoline & Tumbling. 
"Ruben is a star and one of the most exciting gymnasts in the world. We are thrilled to add Ruben to the GCTM family." Said Kerry Adderly, GCTM manager. 
For more information on Ruben Padilla, contact Kerry Adderly, GymCrew Talent Management at admin@gym-crew.com
About GymCrew Talent Management
GymCrew Talent Management, headquartered in Orlando, FL, brings expertise in talent representation to gymnastics athletes around the world.  Gymnastics has taken the twenty-first century by storm with unprecedented growth and opportunity, and everyone involved is pioneering through this uncharted space.  GymCrew Talent Management's ten years of experience working in the college, professional sports and entertainment industry is the foundation from which their gymnastics division is built.  GymCrew has the experience to maximize value and capitalize on the talent and marketability of their clients.  For more information, visit https://gymcrewtalent.com.