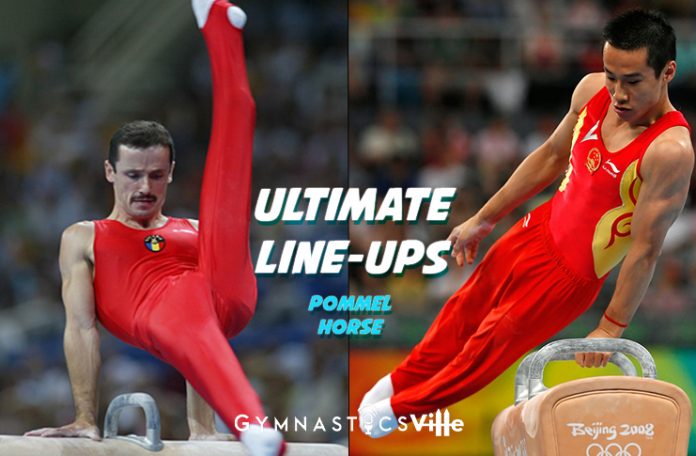 GymnasticsVille Ultimate Line-Up debate series. Midknight Robin versus Penn State Men's Gymnastics assistant coach Tony Beck. They discuss the best pommel horse line-ups of all-time. Kerry Adderly is the moderator for today's show.
About Tony Beck
Via (gopsusports.com) Beck is in his third season as an assistant coach for Penn State men's gymnastics in 2018 after serving as the volunteer assistant coach for two seasons. As a volunteer assistant coach for the Nittany Lions, Beck helped with the daily practices and competition, while working closely with on-campus recruiting. In his final season as the volunteer assistant coach, Beck played a vital role in the Blue and White's third Big Ten Championship and a third-place finish at the NCAA Championships.
Following his graduation from Penn State, Beck started the first men's gymnastics program at Centre Elite Gymnastics where he produced numerous regional and state champions. For his efforts, he was named the 2015 Pennsylvania Coach of the Year.
The Eastern Pennsylvania native has also served as a judge from the Junior National level to the collegiate level and was an instructor at the International Gymnastics Camp where he coached weekly camps focusing on technique and skill development.
As a student-athlete for the Blue and White, Beck earned a fourth-place finish on the parallel bars at the 2010 Big Ten Championships and a ninth-place finish on the pommel horse at the 2011 NCAA Championships. Beck also helped the team to two third-place finishes in the Big Ten Championships in 2010 and 2012 before the Nittany Lions placed second in his senior campaign. In 2013, Penn State went on to place fourth at the NCAA Championships with Beck placing sixth on the high bar.
Beck attended Northampton High School and competed for the Lehigh Valley Sports Academy. Competing at the Visa Championships at the junior level, Beck placed sixth on the floor exercise and 11th in the all-around competition, while earning the 2008 Pennsylvania Most Outstanding Senior Award.
A native of Northampton, Pa., Beck graduated from Penn State with a bachelor's degree in recreation, parks, and tourism management and was on the dean's list as well as a 2013 CGA Academic All-American.
Subscribe to GymnasticsVille
Podcast: Play in new window | Download