GymnasticsVille Ultimate Line-Up debate series. Midknight Robin versus film director Hisonni Johnson. They discuss the best floor line-ups of all-time. Kerry Adderly and Taqiy Abdullah-Simmons are the moderators for today's show.
About Hisonni Johnson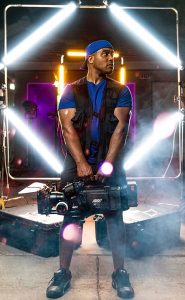 Hisonni Johnson is a Writer, Director, Actor, Cinematographer and Creator. He earned a full academic scholarship to the prestigious University School of Milwaukee, a nationally renowned college preparatory high school. He further distinguished himself by receiving the Presidential Gold Seal for academics and athletics. Johnson studied acting at the University of Wisconsin in the Bachelor of Fine Arts program, but his talent and ambitions did not remain solely in front of the lens.
Hisonni studied with acclaimed Chicago photographer David VanderVeen. An impressive portfolio of commercials resulted, along with an affinity for still photography, video and film. He has worked professionally in nearly every crew position there is in both television and film.  Hisonni has received nearly 100 accolades for his two original television pilots, "Fight Night Legacy" and "Olympia", including a 2013 Streamy Award Nomination and the Grand Prize at the LAWEBFEST. His pilot, "Grayson: Earth One – his own take on the origins of the DC Comic hero, Nightwing – has received great reviews from the likes of Marvels' Stan Lee, The Hollywood Reporter, Deadline Hollywood, The Collider, IGN and countless others. Grayson also starred Olympians Raj Bhavsar and Stephen McCain.
Subscribe to GymnasticsVille
Podcast: Play in new window | Download