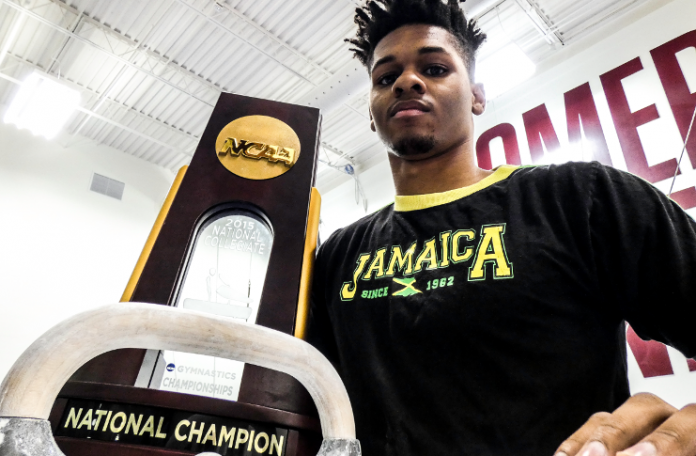 Over the last four years a lot of talk has been going around about the Oklahoma men's gymnastics team dominance in the college ranks. This was not the case up until 2015 when Michael Reid and the Sooners won it all and got them back to their winning ways. OU went through a six year championships drought and finished runner-up four years in a row from 2011-2014. They had not won the championship since 2008 which featured graduating senior standouts Jonathan Horton and Taqiy Abdullah-Simmons.
Michael Reid provided the consistency and leadership which lead to a breakout year in 2015 and captured the pommel horse national title. While most gymnasts retire following their collegiate career, Reid is determined to reach even higher and compete on the world stage.
GymnasticsVille: Now that you have dual citizenship with Jamaica, what are your plans?
Michael Reid: "2015 was the highlight of my career by far especially the team championship. But for me personally I kinda wanna go out with a bang. I hate to leave potential on the table. Jamaica is my mothers home country. I'm the first generation of American born. It's going to be great to represent Jamaica and be apart of their team. It's a young federation and that will be an amazing opportunity. For me, it's also a way to put my final stamp on my career. I have a couple different goals, a couple of skills i'm hoping to put a name on next season and I think this would be a great way to do it.
World Championships is one of the competitions that they do and the Commonwealth Games. World's is the highlight of their season. It is not a guarantee yet that I will be competing for Jamaica I am still going through some administration, I am getting a release from USA Gymnastics at the moment so I am able to compete for Jamaica. Event finals would be great, but I also want a "Reid" in the code of points."
GymnasticsVille: Talk about Winning the NCAA Championship with Oklahoma in 2015?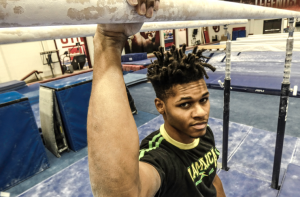 Michael Reid: 2015 was everything for us that year. We had so many seniors. For us anything but winning a national championship was a lost. Every year was a losing season up until 2015. We really took that to heart in our training day in and day out. Every workout was about finally accomplishing that goal. 2015 was huge for us. I have to give it up to every team after that, we graduated a lot of people, it's not like they were guaranteed to be good each year afterwards. They put in a lot of effort to keep the expectation and the tradition going. Congrats to them they won each championship after that for themselves. 2015 was really special for us. All of our alumni was with us in the stands, they were with us in spirit we were carrying all of their hopes and expectations it really had been a drought before that. It was awesome to see it finally come together.
GymnasticsVille: You are the 2015 National Champion on Pommel Horse. What is the key to mastering pommel horse?
Michael Reid: "It's a lot of numbers. I don't think pommels is ever perfect. Every skill is just a little bit off but when you put in so many numbers you just know how to make it look seamless either way. For me that 2015 event finals routine. I had done that routine so many times, both in the gym and in my head over and over again. It didn't even feel like I was doing it. It was like I was watching someone else doing that routine for me. I rehearsed it so many times, every single practice visualizing myself in that spot in that arena. It was at home so we had the advantage knowing the field but I knew that routine so well, that it happen."
Listen to full interview below. Subscribe to GymnasticsVille on iTunes
Podcast: Play in new window | Download