Is there anything gymnasts can't do when driven to be the best?  With close to 100 film festival awards, a gymnastics movie on Netflix called Chalk It Up, director Hisonni Johnson has broken through the industry and does not seem to be letting up anytime soon.  From an early age of 12, Johnson has been directing and producing films. He has worked with Olympians, NCAA champions, and some of the most notable gymnast actors in the business.
GymnasticsVille: What gymnasts have you worked with in films? Which gymnast was one of your favorites to work with?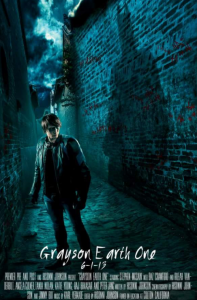 Hisonni Johnson: "I have worked with Stephen McCain (2000 U.S. Olympian) on a fan film called Grayson and it's somewhere has a million views on YouTube and other places.  We won a bunch of awards together. Maddie Curley (Chalk It Up) and Jenn Hanson (Kentucky 3-Time NCAA All-Around Champion) they are wonderful. 
My favorite to work with was Raj Bhavsar (2008 Olympic Bronze medalist).  Everybody knows and loves Raj.  The reason being is that Raj is a really collaborative person, he comes in and essentially takes on producer duties.  He does whatever it takes make sure the film gets done well.  From assisting with creative ideas.  He is a great lead actor. Him and I did a project called "The Gambit".  He did his own stunts, he actually pushed me to do stunts that I first wasn't comfortable with, but again when you are working with a Olympic caliber athlete and your not an Olympic caliber athlete, you really don't know what your capable of until you put yourself in their hands. 
We shot the entire film in a hockey arena and he just wanted to exploit every aspect of the arena.  He was a really physical athlete that could handle running around the ice in one of scenes.  Take after take he was able to handle it and still convey the emotion of being chased on the ice.  It turned out to be one of the most climactic scenes in the film and it was 100 percent Raj's idea.  He is the sort of guy who takes it up a notch."
GymnasticsVille: What Film Award means the most to you?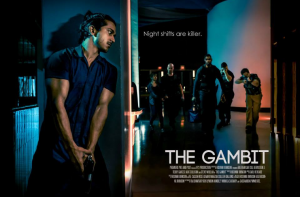 Hisonni Johnson: "The Award that stands out the most is the IAWTV Awards.  International Academy of Web Television Awards.  I saw the awards a couple years before I was nominated and it seemed like a ridiculously long journey to ever be apart of something like that.  To be nominated for two shows I made in one year and category being nominated against myself for low budget projects.  Then seeing my cast and crew at the awards and to see how much it meant to them.  For some of them to be asked to present awards.  It was just great to see everybody's hard work payoff."
GymnasticsVille: Is Paul Hamm (2004 All-Around Olympic Champion) the best American Gymnast of All-Time?
Hisonni Johnson: "I grew up seeing a time when Morgan Hamm his twin brother was better than Paul. Morgan was stronger when they were younger and then Morgan got an injury where he hurt a nerve in his neck that made one of his arms go numb and he never got his full strength back.  Then Paul hit his stride.  When he broke his hand before the 2008 Olympics Paul was the best I've ever seen him.  He was going to win another Olympics, I'm certain.  At that time, Paul had the highest all-around score in the world, higher than Yang Wei. You have to put Paul Hamm in the discussion of top ten gymnasts of all-time."
GymnasticsVille: How did gymnastics contribute to you becoming a film director?
Hisonni Johnson: "Through gymnastics being a all-rounder I learned time management, I learned how to work hard, I learned that failing doesn't mean much.  As a gymnast we spent 99 percent of the time falling and with film making its kind of the same thing.  To put together a fight scene is a lot like putting together a progression of a skill and breaking it into bite size pieces and then it comes together as a whole.  Even the technique of a skill like a Kovacs, the tap, the release, it's all frame by frame if you think about it. 
Jumping from gymnastics to film felt the same because you see gymnastics frame by frame and you see movies the same way.  So it wasn't really a transition for me. I started making films at age 12. Screening them for people at 16.  Me and my gymnastics and football teammates made films and rented out movie theaters and we actually make a decent living screening out films for whoever wanted to see them.  My gymnastics coach was super encouraging about that. In fact all the skills I learned at the gym was us making movies about doing flips, kicks,and stunts.  It all paid off.  Gymnastics paid off from a very young age for me."
Listen to full interview below. Subscribe to GymnasticsVille on iTunes
Podcast: Play in new window | Download