Going your entire college gymnastics career without a losing is something you can only dream about as a kid. For Hunter Justus, his dream became a reality and he has four national championship rings and finished his career at Oklahoma with a historic 97-0 record. What Mark Williams and the Oklahoma men's gymnastics team has been accomplishing over the last decade is indescribable at times. There is no question that what we are witnessing, is the greatest gymnastics dynasty of all time.
Hunter's leadership as team captain this past season was just what Oklahoma needed to complete the four peat. It's never easy to stay on top after losing last years senior class which included the nation's second best gymnast Allan Bower, and a 12-time All-American, Colin Van Wicklen. But Hunter believed in his team from day one and kept them focused throughout on the process.
GymnasticsVille: Accomplishment you are most proud of?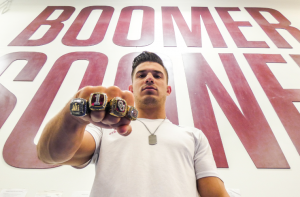 Hunter Justus: "There isn't a specific national championships. I will definitely say that winning four national championships in college was the greatest thing i've been apart of. Anything on the NCAA scene is just an amazing experience. I would put that in front of anything i've done individually any day. Being on the team was life changing for me. I live for that stuff right there to be apart of these group of guys, it's just insane."
GymnasticsVille: How does it feel to be retired from gymnastics?
Hunter Justus: "Life is a little different for me right now. For the first time in my life gymnastics hasn't been a priority in my life. These last few weeks has been pretty weird for me honestly. It's been nice having the time off. Being in gymnastics for eighteen years before this, now i'm at this point in my life where i'm entering the real world where gymnastics isn't everything right now. It's been different but nice adjusting."
GymnasticsVille: Why do you feel now is the time to move on from gymnastics?
Hunter Justus: "The main reason why I retired was because of my body. Believe me, my mind is definitely still in the gymnastics game, I definitely could have kept going mentally.  I know I wouldn't have been able to keep going physically and I didn't want to torture myself and my mind to try to push and keep going when my body is not going to let me. I had shoulder and elbow surgery this past year and my shoulder just never recovered and wasn't the same and couldn't do rings all year. Genki Suzuki who had surgery the same time as me was doing rehab and ring routines and I wasn't allowed to do rings because my shoulder was so bad. I ended up getting another MRI and there is still a tear in my biceps. To get that fixed I would need to have surgery again and I do not think my body recovers like it use to.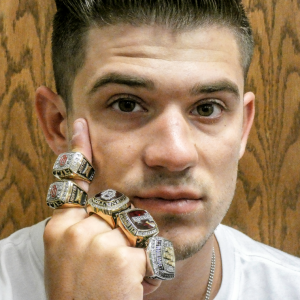 Taqiy Abdullah-Simmons was a huge contributor who helped me with the decision. Taqiy and I had similar careers when it came to injuries. We actually had two of the same surgeries. He helped me make this decision for me and not for anyone else and i'm really glad he helped me realize that. Because if I would have made this decision for my coaches and not for myself then I felt I wouldn't be as happy in the long run and right now I am happy."
GymnasticsVille: Does the U.S. Men's team have the talent to win a Team Gold Medal at World Championships?
Hunter Justus: "Yes, I really do. I think the amount of talent Team USA has is pretty ridiculous actually. You look at guys like Sam and Yul those guys are out of this world talented."
GymnasticsVille: Your thoughts on Cypress Academy Winning their fourth straight Junior Olympics Level 10 team title?
Hunter Justus: "Tom Meadows is a very good club coach. The plans he puts together are insane. They are hard but good they are for the kids. If that make sense. He really does know how to instill a team atmosphere with the team as early as 10 years old. So if you go to Cypress and you've been there for a long time, look at the greats that have come from Cypress, Jonathan Horton and Chris Brooks. It's such a breeding field of good gymnastics. It's like if you go to college and you have trained at Cypress you already know what it takes to be a part of a team. Tom makes his teams very similar to that."
GymnasticsVille: Is Mark Williams the greatest college coach of all-time?
Hunter Justus: I think that he is and here is why: Since all the years Mark Williams has been coaching at OU, I don't think from the day he started coaching as head coach, there has not been a more dominant coach in the last ten to fifteen years. I just think that in that time frame that Mark has been head coach no one has won more Championships and conference titles as he has.
Listen to full interview below. Subscribe to GymnasticsVille on iTunes
Podcast: Play in new window | Download