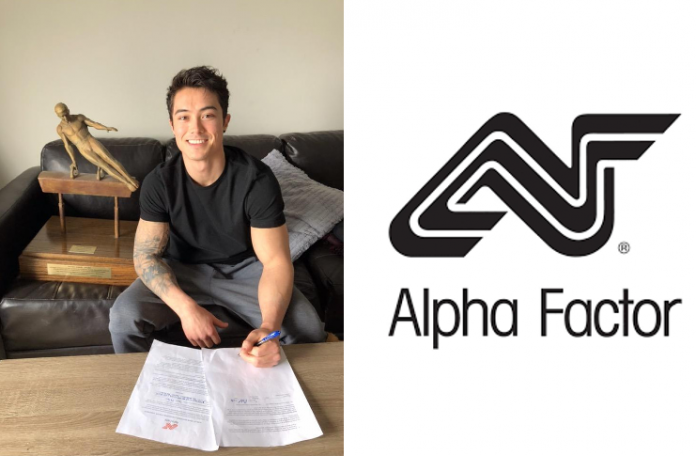 It's official; Sean Melton has signed to become an Alpha Factor Brand Ambassador for the 2019 gymnastics season. Melton, a 10-time All-American, seven-time Big Ten champion, has turned pro and is currently in the hunt for a 2020 Olympic team spot.
"I am extremely grateful for the opportunity to be a Brand Ambassador for Alpha Factor. I am excited for what we can accomplish together in the next couple years," says Melton. "Thank you Kerry Adderly and GymCrew Talent Management for making this happen!"
The agreement with Alpha Factor represents a much deeper investment in the athletes of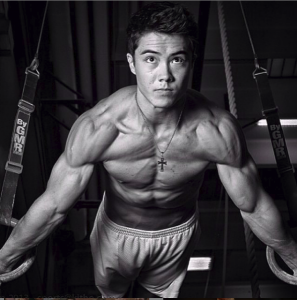 the sport in the United States. The agreement, negotiated by GymCrew Talent Management, represents a commercial achievement for GymCrew talent manager Kerry Adderly. He has promised to bring increased revenue to the athletes in gymnastics so they may continue to train and compete to extend their careers in the sport.
"When GymCrew approached us about Sean, we knew he would be a great addition to our Brand Ambassador team." Ashley Zimmerman, Alpha Factor Director of Business Development said. "We are excited to see him inspire our men's line, wear Alpha Factor apparel and build relationships within the gymnastics community."
Melton has led the Buckeyes in two Big Ten team titles, 2016 and 2017, and was named the 2018 Nissen-Emery Award winner. The award, college gymnastics' Heisman Trophy, is presented annually to the outstanding senior gymnast of the year.
"Ohio State has produced some of the greatest gymnasts, not only at Ohio State, but United States history. Blaine Wilson, Raj Bhasvar, Kip Simons, Jamie Natalie, etc. To be put in that group, makes me speechless because I grew up watching Blaine Wilson, Raj and looking up to them. Now that people compare me to them, I am so grateful of it all. It has truly been an amazing experience that I have had during my five years at Ohio State," says Melton, "I could not have done it without all the alumni support, all my coaches, teammates and my family. I was speechless when I received the award. We had great nominees and I felt like every single one of us deserved it."
Melton joins 2018 US World Team member, Colin Van Wicklen, who also is a Brand Ambassador for Alpha Factor.
View this post on Instagram

"Sean Melton has a smooth and calculated approach to his gymnastics. He is a very strong and powerful gymnast with clean lines," says talent manager Kerry Adderly. "After the 2018 United States Championships, Sean was one spot away from making the National Team. He is now on a quest to redeem himself and earn a spot on Team USA and then earn a spot on the 2019 World Team."
About Alpha Factor
For over 35 years, Alpha Factor® has been one of the leading manufacturers and suppliers of gymnastics apparel around the world. It is our mission to integrate cutting-edge style, superior quality, and reliable fit into the highest quality gymnastics leotards and apparel for gymnasts and coaches. With over 100 fabric and crystal color options, coaches can customize leotards and warm-ups with their team colors. The Alpha Factor training collection offers fun, stylish practice gymnastics leotards, accessories and gifts that any gymnast would LOVE to show off at the gym! Alpha Factor® is the first visionary sponsor of the non-profit organization of Youth Protection Advocates in Gym
nastics (Y.P.A.G.) www.ypag4change.org
Subscribe to GymnasticsVille