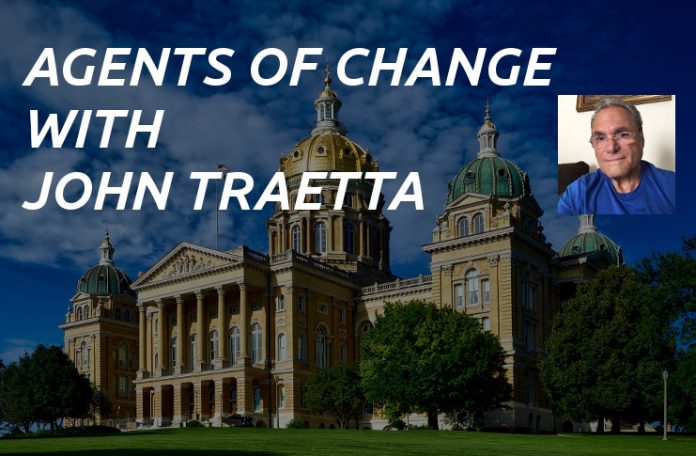 John Traetta, Kerry Adderly, and Midknight Robin discuss important issues within the sport of gymnastics and talks about ways to improve the culture of gymnastics in the United States.
In 1978, John Traetta, founder and executive producer of High Bar Productions, focused on the world of Sports and Fitness, which involved many of the top sports organizations, competitions, events & athletes, and successfully implemented a multilevel media and marketing program.
BodyShaping, the # 1 rated fitness show in the world premiered in 1988 and was broadcast on ESPN for over 15 years. John Traetta, the executive producer of BodyShaping, created additional programs and videos with leaders in the health and fitness industry, including Fitness Beach, Co-ed Training, Flex Magazine Workout, and BodyShaping Letters featuring Kathy Ireland.
Traetta also represented Mary Lou Retton, 1984 Olympic Gold Medalist. He negotiated over $5 million in licensing corporate contracts, as well as bestselling book deal, ABC television show "Fun Fit" and commentator spot on NBC.
Career Highlights Since 1984:
Mary Lou Retton – 1984 Olympic Gold Gymnast – 1984-1989 – Executive management representative with over $10 million in licensing corporate contracts negotiated by John Traetta.

National High School Federation – 1986-1991 – Televised high school sports on national cable TV including a $1 million Gatorade sponsorship to support the National High School Federation.

Arena Football – 1990-1995 – Produced 20 televised events per year on ESPN.
National Basketball Association – 1988-1991 – The NBA, the International Basketball federation, TV specials for ABC, including assistances for the TV production "The McDonalds Basketball Open".
International and National Gymnastics Championship Events – 1984-1990 – Included USGF National championships, American Cup, Russia vs. USA, China vs. USA and many other prestigious events produced by High Bar Productions for CBS, ABC, NBC and ESPN.
International Polo Championships – 1989-1991 – One hour Sunday specials on CBS, sponsored by Mercedes and produced by High Bar Productions.
National Show Jumping Events – 1990-1994 – produced for National cable regional sports networks, sponsored by Cadillac.

Podcast: Play in new window | Download