Do you ever wonder what the world's best gymnasts do in the gym for fun, do they play any gymnastics games? I mean besides the flipping, twisting, and swinging around doing routines. With all the time spent in the gym, gymnastics can be pretty repetitive with the pursuit of perfection by performing the same old skills everyday. The key to gymnastics is to develop sound basics and fundamentals, learning how to land properly is key in maintaining a healthy body for optimal performance.
If you ask any gymnast from any era they will tell you there is nothing like a good ole game of Stick It. The beauty about this game is that it can be done anywhere on any event with small and large teams. It is all about landing your last skill without moving your feet. There is no greater feeling for a gymnast than to stick a landing. It is the ultimate show of athleticism, agility, air awareness, and body control.
Back in the day during my gymnastics club days before college, my teammates would arrive thirty minutes and sometimes even an hour before practice to play. Many times if I won the Stick It game it got me into a zone for practice. I really enjoyed playing Stick It off of the trampoline to a  landing mat. Not only did this game help with my landings but also improved my awareness in the air. This is why the Stick It game is one of my favorites. The last skill a judge evaluates in a routine is the dismount. Most levels in gymnastics give bonus points for stuck landings. I compare it to football, where the goal is to score a touchdown and in gymnastics it's all about the Stick at the end of a routine.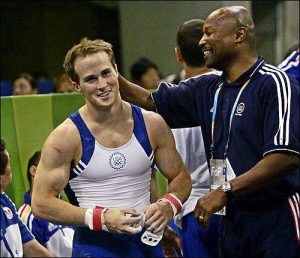 When looking at some of the greatest gymnasts of all-time Simone Biles, Paul Hamm, and Nadia Comăneci, they all have something in common. They're all Olympic Champions but were also clutch at sticking dismounts in pressure situations. One of the most memorable sticks was in the 2004 Olympic Games in Athens. Paul Hamm falls off the mat on his vault during the fourth rotation in All-Around Finals. On the sixth and final event, High bar, Hamm hit his routine and stuck his laid out double twisting double layout to win the gold medal. Or remember the 1996 Atlanta Olympics when the men's Russian team all stuck their dismounts on high bar to win team gold.
The common theme here is to be a great gymnast you have to be great at landing. So the next time you are looking for a great gymnastics game that is fun and will improve your gymnastics,  look no further, play a game of Stick It.