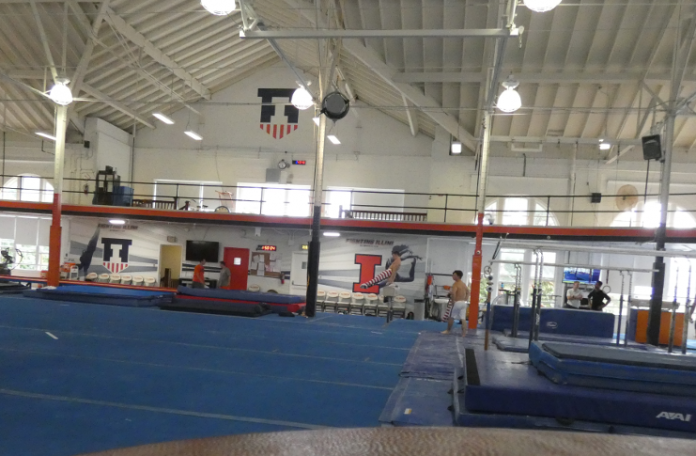 It came down to the last event, the Illinois men's gymnastics team had been leading the competition with one more challenge ahead of them.  Keep the lead by staying on pommel horse in order to prevent Michigan from staging a comeback. Michigan finished up on vault, one of their strongest events of the evening. You can never count out Michigan when you have solid all-arounders like US national team member Cameron Bock and Emyre Cole on your team.
Four #Illini event titles on the night!

Floor – Stephens (14.550)
Pommel Horse – Paradise (14.200)
Rings – @alex_diab10 (14.750)
Vault – Stephens (14.500) pic.twitter.com/l9f6fFvnaB

— Illinois M Gym (@IlliniMGym) January 20, 2019

Illinois had other plans, Michael Paradise and Ian Skirkey hit clutch routines to close out the meet for their fifth consecutive Windy City Invite title with a one point win over runner up Michigan. Paradise scored a 14.2, the highest pommel horse score of the night. This was a team win, Clay Mason Stephens captured event titles on Floor (14.550) and Vault (14.500). Alex Diab won the rings with a 14.750.
UP NEXT: Illinois plays at home on Huff Hall versus Iowa on January 26th.
Windy City Invite
Illinois: 403.150

Michigan: 402.000

Minnesota: 399.800

Iowa: 394.800

Washington: 370.150

UIC: 357.250
Event Champions
All-Around: Cameron Bock (Michigan) 80.650
Floor: Clay Mason Stephens (Illinois) 14.550
Pommel Horse: Michael Paradise (Illinois) 14.200
Rings: Alex Diab (Illinois) 14.750
Vault: Clay Mason Stephens (Illinois) 14.500
Parallel Bars: Mitchell Brown (Michigan) 14.350
High Bar: Justin Hopgood (Michigan) 13.950
Oklahoma cruises to a 21 point victory over Air Force
The Sooners are once again looking dominate early into the 2019 season. We are just finished up with week 3 and for the second consecutive week the Oklahoma men's gymnastics team posting the highest team score in the nation at home against Air Force and Arizona State.
Even more impressive is all this is being accomplished with last year's all-around champion only competing on one event. Last week, Matt Wenske was the star placing second at in the all-around at the Rocky Mountain Open. On Saturday night,  it was senior Genki Suzuki, who scored 83 points, most points by a gymnast for week 3. But the real story is here, is Oklahoma's depth. They are loaded with talent on every event and they are getting contributions from everyone on the team. Once Moldauer is back in the full lineup, it will be hard to imagine them losing a competition this year.
UP NEXT: Oklahoma plays at home at McCasland Field versus Ohio State on January 26th.
Oklahoma Home Debut
Oklahoma: 418.550

Air Force: 397.050

Arizona State: 392.500
Event Champions
All-Around: Genki Suzuki (Oklahoma)  83.600
Floor: Vitaliy Guimaraes (Oklahoma) 14.450
Pommel Horse: Genki Suzuki (Oklahoma) 13.700
Rings: Yul Moldauer (Oklahoma) 15.100
Vault: Gage Dyer (Oklahoma) 14.850
Parallel Bars: Genki Suzuki (Oklahoma) 13.950
High Bar: Gage Dyer (OU), Levi Anderson (OU), Lukas Texeira (Air Force) 14.100
Penn State Gymnastics wins on the road at Army
The Penn State men's gymnastics team took down Army, 396.5-391.00, on Saturday afternoon in Gross Center on Army's campus in the Nittany Lions first dual meet of the season.

Release: https://t.co/wcqsIG7Z0V pic.twitter.com/WbjoJyxYcF

— Penn State Men's Gymnastics (@PennStateMGYM) January 19, 2019

UP NEXT: Penn State plays at home in University Park versus Nebraska on Saturday January 26th.
Army vs Penn State
Penn State: 396.500

Army: 391.00
Event Champions
All-Around: Matthew Davis (Army) 80.150
Floor: Sam Zakutney (Penn State) 14.400
Pommel Horse: Stephen Nedoroscik (Penn State) 14.850
Rings:  Isaac Hammett (Penn State), Greg Tamargo (Penn State) 13.900
Vault: Brayden Borromeo (Penn State), Brady Yamamoto (Penn State) 13.950
Parallel Bars: Cole Casanova (Army)13.150
High Bar: Favian Valdez (Penn State) 13.300
Stanford  remains unbeaten with win over Cal
🔥on the floor. #GoStanford pic.twitter.com/v1UxkWKhAc

— Stanford Gymnastics (@StanfordMGym) January 20, 2019

UP NEXT: Stanford plays at Berkeley versus California on January 26th.
Stanford Open
Stanford: 406.300

California: 395.750
Event  Winners
All-Around: Darren Wong (California) 81.00
Floor: Bryan Perla (Stanford) 14.700
Pommel Horse: Darren Wong (California) 13.650
Rings: Harrison Plate (California), Thomas Lee (Stanford) 14.300
Vault: Brody Malone (Stanford) 14.550
Parallel Bars: Grant Breckenridge (Stanford) 14.200
High Bar: Aaron Mah (Stanford) 13.900
Subscribe to The GymnasticsVille Podcast