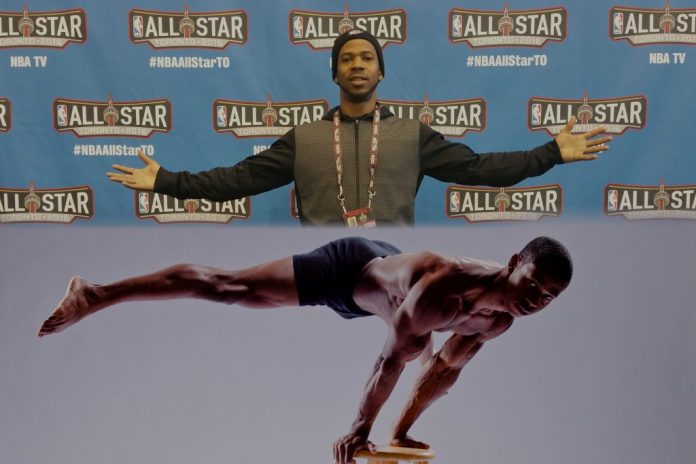 GymnasticsVille co-hosts Remi Marvin, Midknight Robin and analyst Taqiy Abdullah-Simmons interview Oklahoma City Thunder Fan Interaction specialist, Kerry Adderly.
Kerry grew up in Orlando, FL where he began playing basketball and training gymnastics by the age of 7. After graduating from high school he earned a full athletic scholarship to the Ohio State University fall of 2001. By 2005 he had become a 2 time Big Ten Champion and 3 time All American for the Men's Gymnastics team.
Kerry continued his Olympic Journey onto Allentown, PA where he trained for the 2008 Olympics all while earning a spot on the 2008-09 Philadelphia 76ers Entertainment team. After retiring from gymnastics is when he became interested in the entertainment industry. He signed As an Acrobatic Artist with Cirque Du Soleil Inc. in 2009 for the Bungee Warrior Role in "Mystere" showing at the Treasure Island Resort in Las Vegas, NV. In 2013, Kerry ventured back into the Sports industry becoming the Mascot Coordinator and Acrobatic Slam dunk Coordinator for the Phoenix Suns NBA Franchise. There he worked in the game operations and community relations departments performing as there Mascot "The Gorilla". In 2014 continued as an independent contractor working for the LA Clippers Skydunk Squad, The Harlem Globe Trotters, & Cirque Du Soleil.
Podcast: Play in new window | Download