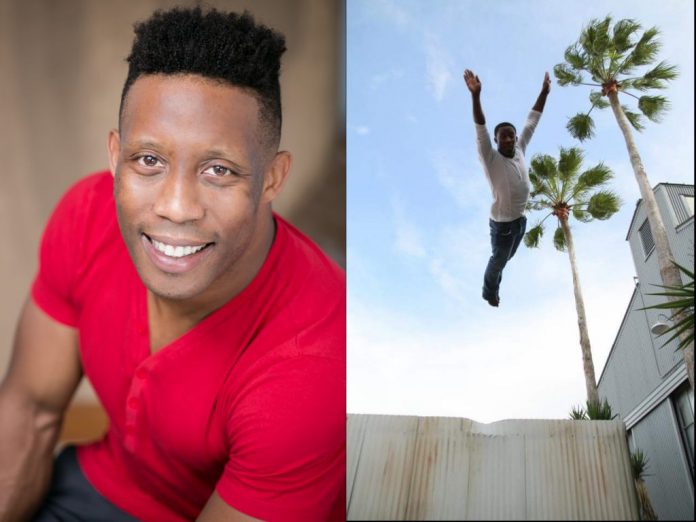 Like most people, I do not let a day pass without thinking about my goals and dreams. But unlike many, my mind is in a constant swirl trying to figure out which of my many interests and talents will propel me to achieving all that I desire in this life. Stunts. Acting. Dance. Writing. Teaching. Styling. Creating. Directing. There are so many possibilities. Picking one to focus on is nearly impossible. Trying to take them all on at once is even more challenging. But the one thing that has brought them all together? Gymnastics.
Hi there! My name is Jeffrey T. Brown. I spent fourteen years of my life competing Trampoline and Tumbling, with seven of those years as a member of the USA Gymnastics National Team. At just nine years old, I had no idea how this sport would help mold and shape my life. Now, I am a contracted stunt actor at the Indiana Jones Epic Stunt Spectacular at Disney's Hollywood Studios and have performed in shows at Universal Orlando, Sea World Orlando and La Nouba by Cirque du Soleil.
Although most of my life consisted of training and competing in gymnastics, I have always considered myself a performer. I started dancing at the tender age of four, with aspirations to be a young Gregory Hines. My mother enrolled me at her childhood dance studio in the boys tap and tumble combo, and it was then, I learned of my knack for acrobatics. From there, my parents took me to my first gymnastics facility and upon learning about the sport of trampoline and tumbling, I jumped at the chance to try this intriguing discipline. Through the years, I remained active in other areas while training: school plays, debate and speech competitions and of course, my first love dancing.
After completing my Bachelor's Degree in Business Administration from University of Missouri at Kansas City, I moved to Alabama to coach and compete. Two years later, after attending an audition in Orlando, Walt Disney World hired me as a full-time stunt performer. I have lived and worked here for six and a half years now, and my eyes are constantly being opened to new people, new experiences and new opportunities to become an even more well-rounded individual.
The most important thing my time as a gymnast bestowed upon me is confidence. Growing up in this sport and traveling the world has given me the ability to easily connect with all types of people, acquire new skills and use some skills that I was not sure I'd ever be able to use again. Since retiring as an athlete, I have met and worked with so many great people that share a lot of the same goals and aspirations as me, and we have created and executed amazing projects with great intentions to keep improving to our absolute limits.
All this to say, my life in GymnasticsVille has been incredible and will continue to flourish. You can look forward to blogs from me discussing my time in performing, choreography, acting, and trampoline and tumbling, as I am still a Certified USA Gymnastics Judge. Also, I'll be sharing my interests in writing, fashion and artistic creation. I am always looking toward what the future may hold. I am a renaissance man, and I cannot wait to share my journey with you!
Peace,
Jeffrey Brown