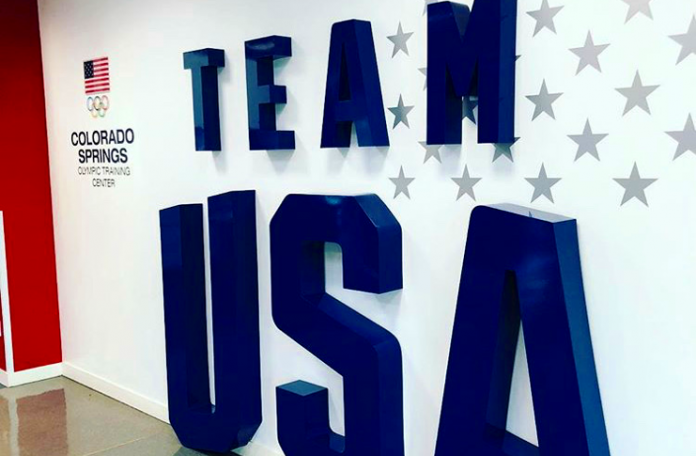 Tis the season, the gymnastics postseason is here for elite gymnastics in the United States.  In the upcoming weeks the gym world will be buzzing with excitement and debating about which gymnasts deserves to be chosen by the USA Gymnastics Men's World Team Selection Committee for the 2018 Artistic World Championships that will be held in Doha, Qatar October 25th – November 3rd.  The stakes are high this year, top three teams get an automatic berth to the 2020 Tokyo Olympic Games.
Every year the men's program committee chooses the most knowledgeable gymnastics minds in the community to be apart of the World Team Selection Committee to decide which members of the U.S. senior national team will represent the country at World Championships.
"The World Team Selection Committee was determined at the June 11 meeting of the Men's Program Committee.  The members are: Jake Dalton, athlete's representative; Russ Fystrom, coach representative; Brett McClure, high performance director; J.D. Reive, athlete, coach, administrative representative; Mike Serra, coach representative;…" Says Dennis McIntyre, vice president for men's gymnastics.
These five members on the committee have their work cut out for them this year and it all begins on Thursday August 16th day one of competition at the U.S. Gymnastics Championships in Boston, Massachusetts.  The last time the men's squad has won a World Team medal was 2014 and that team consisted of Jacob Dalton, Danell Leyva, Samuel Mikulak, Alexander Naddour, John Orozco, and Donnell Whittenburg.
This year's U.S. Gymnastics Championships will be one of the most competitive in recent memory.  Two-time Olympian Sam Mikulak has bounced back and looks fully recovered from tearing his achilles tendon at the 2017 Winter Cup Challenge.  Four months ago in April he lead Team USA to a gold medal at the 2018 Pacific Rim Championships and capturing the All-Around title in the process. Yul Moldauer, last years national champion dominated the college ranks and helped the University of Oklahoma men's gymnastics team win their fourth straight national title. And let's not forget Moldauer captured the All-Around, Floor, Vault and parallel bars titles as well.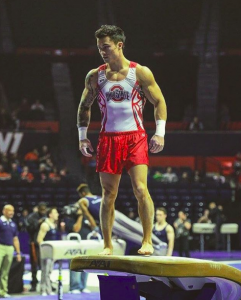 2014 World Team bronze medalist Donnell Whittenburg is on the mend and is looking to compete in his first competition of the years since having shoulder surgery.  Look for him to contend as well as Colin Van Wicklen the 2017 alternate to the world team.  He is on fire since winning the National Qualifier last month.  Not too far behind, U.S. Senior National team member and the 2018 Nissen-Emery award winner Ohio State's Sean Melton.
"I feel great. I'm ready to go.  These last couple weeks of training has been refining my gymnastics making sure i'm as clean as possible and that my difficulty is where it needs to be.  I'm excited.  If I could compete this weekend, I would.  Says Melton.  "I'm ready to show what i'm capable of.  I've learned a lot of things the past couple of months.  I'm excited to show on the big stage and hopefully get one of those coveted world team spots."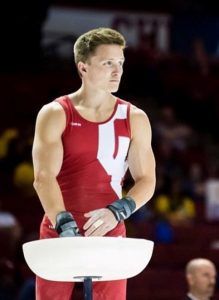 Allan Bower, 3-time national champion from Oklahoma who placed second all-around at last years U.S. Championships is feeling good about Team USA's chances at World Championships and is looking to make his first World Team.
"The way I look at it is, Japan and China are the ones that we are chasing, everyday I go into the gym I think about the top athletes and what they are doing during their training sessions".  Says Bower.   "I mirror my training sessions after that. My goal going into to any competition is to always hit six for six and do exactly what I do in practice.  I keep that mindset during practice each and everyday."
The fans are pumped up and the athletes are ready to go.  After the U.S. Gymnastics Championships concludes and the senior national team is finalized the men's program will have a World Team Selection Camp during September 19th- 23rd to determine which national team members will make the cut.  When Dennis McIntyre Men's Vice president was asked about coverage for the World Team Selection Camp he said.
"Whether or not web coverage is possible depends on the final plan for the World Championships Team Selection Camp, which is being finalized by the high-performance director working with the personal coaches.  All senior team camp training sessions, including selection camps, are open to the public, which has always been the policy for all junior and senior national team camps."
So there you have it folks, the World Team Selection Camp is open to the public and will be held in Colorado Springs at the U.S. Olympic Training Center.  You do not want to miss out on this opportunity to watch the nation's best and brightest stars compete for a World Team spot in their quest for Olympic team gold in Tokyo 2020.