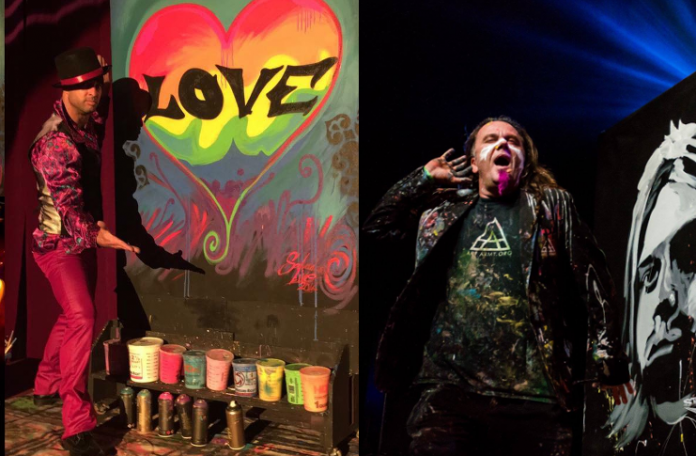 Midknight Robin hosts today's show in Miami Beach with guests performing artists Salvador Llobet and Perego. They discuss art, life, and new upcoming ventures.
Meet the Artists
Salvador Llobet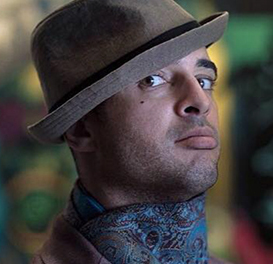 Juan Salvador Llobet was born in Valencia, Venezuela on September 20, 1978. He began painting as early as the age of five, and what was once the discovery of color, grew into a lifelong passion of art, and all things beautiful. Ever since early childhood Salvador has been obsessed with the idea of true vivid color and the manipulation of it. He remembers the extreme joy coloring brought to me for the first time. It was the discovery of energy, joy, and passion. It quickly went from just being a pastime, to what he loves to do.
In the beginning it was all about understanding and observing life all around, coloring inside the lines, but much later after developing is when he realized that art is not just about a line, a form or a space. Art is about the spontaneous energy and feeling that color makes me feel. The approach of his work is very dynamic and full of energy. Each one of Salvador's pieces is the recording of a beautiful moment directed by his subconscious.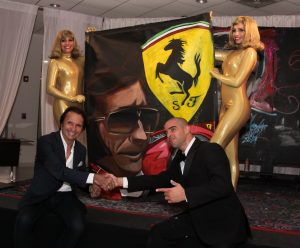 For the past 25 years color has been the focus, and the philosophy lies within the energy each color possess, providing the mode in which to explore an empty space. His work receives a variety of color treatments using different mediums such as acrylics, oils, inks, dyes, enamels, and spray paint, called " Mix media " Finalizing each piece with a coating of liquid glass resin to accent the vibrancy of color, creating a one of a kind original moment in a painting that will take your breath away.
Perego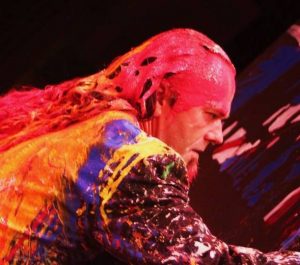 In 1996, artist Perego was commissioned to do a historic mural in downtown Deland, Florida. The mural was to be done on a building which was 30 ft. tall x 70 ft. long. Due to the scale of the project, Perego chose to ask his close friend Christopher Hansen, to help him paint. He called and found him in Deland at his grandmother's house, quite surprised to hear that he had just recently returned there from the hospital, where he had been recovering from a high-speed car accident. Fortunately, Chris survived the crash with only a few cuts to his face. Although he had never painted before, Perego asked him to be his only assistant on the large mural project.
​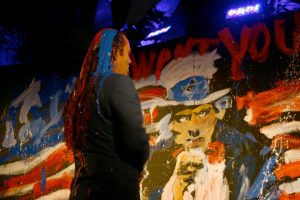 When Chris arrived on the job site, he noticed that he had clean clothes on, in major contrast to Perego's paint splattered paint clothes When Perego asked him to block out some of the background, Chris excited about the job and creating his own paint clothes began putting so much paint on himself, that it literally went through his clothes and onto his skin. Covered almost head to toe in green paint, feeling like he was in the "trenches", (climbing up high on scaffold) Chris remarked " I feel like I'm in the Army – The ART ARMY!! " And so it all began.
​
At the finish of the mural, the concepts of the Art Army were pretty much defined, the Spiritual Renaissance Manifesto written, and they began enlisting people into the idea that Everyone is an Artist. At the initial Art Party in 1996, about 500 people joined their voice to the mantra – "WE ARE THE ART"
And thousands have done the same since. The Art Army has sponsored events world wide including happenings in NYC, Philadelphia, LA, Miami, Numerous music and art festivals, Burning Man, and now, the Art Army has a global presence with outposts now in 50 cities world-wide.
Listen to full show below. Subscribe to GymnasticsVille on iTunes
Podcast: Play in new window | Download