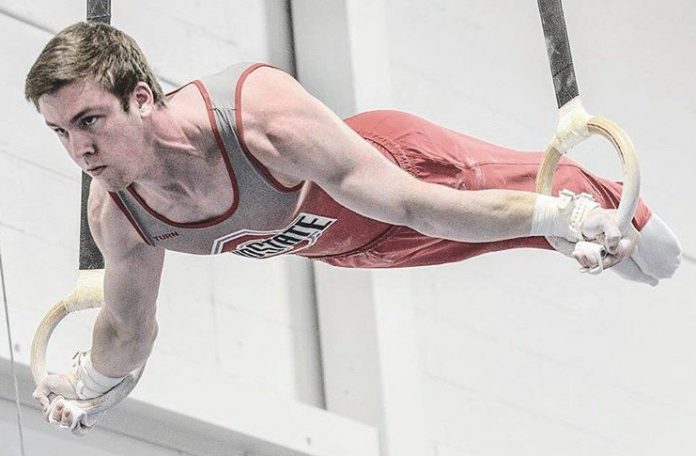 Ohio State's two time Big Ten Champion and Vault All-American Seth Delbridge has unfinished business with his gymnastics career. After injuring his ankle early on this season Seth was unable to fully recover in time to contend for a individual vault title at NCAA Championships. Now he sets his sights on the U.S. Gymnastics Qualifier and is looking to compete for a national team spot at U.S. Championships.
GymnasticsVille: What is keeping you in the sport? Where is the drive coming from?
Seth Delbridge: "I always wanted to and never competed at U.S. Championships and Winter Cup. Everytime it seems due to my health. My first few years at college I broke my foot almost the same day both years. November 14th one year and November 15th the other year. That pretty much puts you out of Winter Cup. You have to qualify through the Rocky Mountain Open or the Windy City Invite. I missed my chance to go for the national team. After my freshman year I tired going to qualifier and it didn't go too well.  So I missed U.S. Championships.
This year I completely wrecked my ankle the very first meet of the year. That put me out most of the season in terms of floor and I never got to compete vault again. The team was saving me for day two nationals. We ended up not qualifying to day two. I pushed really hard, rehabbed seven days a  week, just trying to get back on vault and it ended up not happening. You can imagine, you want to leave the sport on your own terms. I always wanted a shot to make the national team. Also, I don't want to leave it how I left it, you know. Vault is one of my best events, it's one of the events I'm most proud of and only competed it once this year."
If you qualify and compete at the U.S. Championships, what would would consider a successful competition?
Seth Delbridge: "I would be proud competing at U.S. Championships. That's the goal in mind. I've had so many setbacks over the years. It's seems there is this wall that I haven't been able to get past, which is getting to this competition. At qualifier I plan to competing all-around. Depending on how the day goes I may drop pommels, but I am training all six events right now."
In 2017, Ohio State won their back to back Big Ten team title and finished 2nd place at NCAA Championships, your highest team finish since 2005.  What made the 2017 season come together so well for your team?
Seth Delbridge: "This year we relied a lot on our freshman. Not too heavily, but enough. The last couple years we had some veterans. We had Jake Martin and Jake Dastrup. Those are big routines. Alongside Sean Melton and Alec Yoder that's stacked already. I truly believe it was the experience with the veterans that helped pave our way to the Big Ten titles."
Do you think your teammates Sean Melton and Alec Yoder can contend to make a U.S. World Team this year?
Seth Delbridge: "Yes sure. Sean Melton and Alec Yoder are two of the most amazing gymnasts i've ever had the privilege to training with. Both of them just exude talent and on top of that they work so hard. I believe both of them can make the world team. They have a lot to bring to the table."
What is it like to be coached by Olympic great Rustam Sharipov?
Seth Delbridge: "I love Rustam, he is my favorite coach. Growing up I didn't have a lot of consistency in terms of my coaches. At one point during my career I felt like I was coaching myself. He is basically my first real legit coach. He cares so much about his athletes. I get a vibe and he lets us know that he cares about us as a person first and a gymnast second. I not sure how much you will find that in a coach throughout the nation. I tell recruits that he cares so much as if we are his children. But at the same time he works us really hard. He coached at Oklahoma he knows how to make champions. He has seen how it works. He has a national championship ring."
Listen to full interview below. Subscribe to GymnasticsVille on iTunes
Podcast: Play in new window | Download