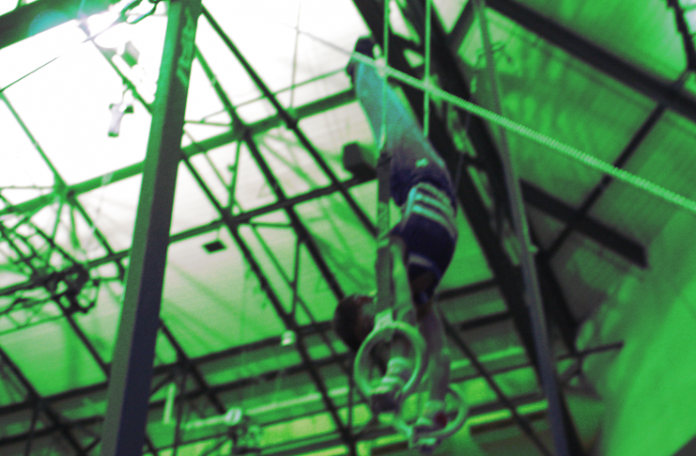 Gymnastics and Summertime is fun time here in GymnasticsVille! We love gymnastics, but even more so we love training new skills to add to our routines for the upcoming competitive season. Summer camps are everywhere and you can't wait to get Gabby Douglas or Jake Dalton's autograph at IGC. For gym coaches and parents this time of year is also ideal to begin thinking about which local, regional, and national competitions your teams will be attending.
Below are my Top 10 Junior USA Gymnastics Men's Invitationals for the 2017-2018 competitive season.
Windy City Invitational
Dates: January 12-14, 2018
Location: The University of Illinois-Chicago UIC Pavilion | 525 S Racine Ave. Chicago IL 60607
Summary: Exciting weekend of gymnastics competition at the 20th Windy City Junior Boys Invitational! Junior competitors will receive free admission to the 47 the annual NCAA Windy City Meet on Saturday evening. Competition is hosted by Prairie Gymnastics Club. For more information go to http://www.windycitygymnastics.com/ 
Brian Babcock Memorial Invitational
Dates: January 26-28, 2018
Location: Parkettes National Gymnastics Training Center | 401 Martin Luther King Drive, Allentown, PA 18102
Summary: In 1999, the Parkettes were honored to hold the First Annual Brian Babcock Memorial Invitational in honor of the late Brian Babcock. Babcock was the former Men's Program Director, as well as 1985 USA National Men's Champion. The invitational will be held every year to honor three traits closely associated with Brian and his impact on the sport of gymnastics: Desire, Dedication, and Determination. Through the years, the 19th Annual Brian Babcock Memorial Invitational has developed into one of the largest and most prestigious men's invitationals in the country, highlighting gymnastics from across the country and abroad. For more information go to http://www.parkettes.com/bbinvitational.html
Valeri Liukin Invitational
Dates: December 8-10, 2017
Location: WOGA Frisco | 5936 Nancy Jane Lane, Frisco, TX 75035
Summary: December 8-10, 2017 Since 1996, WOGA Gymnastics has hosted the Valeri Liukin Invitational, which attracts top teams from around the world. As one of the largest and longest running International competitions in the United States, the Valeri Liukin Invitational brings together a high level field of competitors. $10,000 in prize money will be awarded for Individual Events and Team Cups and WOGA hosts a coaches reception after the Elite competition concludes. For more information go to http://www.woga.net/meets/valeri-liukin-invitational
Peter Vidmar Invitational
Dates: March 3-4, 2018.
Location: Dorsey High School | 3537 Farmdale Ave. Los Angeles, Ca  90016  
Summary: The 27th Annual Peter Vidmar Men's Gymnastics International Invitational (PVI) will feature gymnasts from "Across the USA" and "Around the World". In past years they have hosted gymnasts from Armenia, Australia, Canada, Finland, Germany, Iceland, Mexico, New Zealand, Japan & Russia.
Peter Vidmar became the premier male gymnast for the USA at the 1984 Olympic Games in Los Angeles. As USA team captain, he led his teammates to their stunning gold medal victory over the People's Republic of China. Peter went on the win the silver medal in the ALL-Around Competition, making him the only American male ever to do so. With a perfect score of 10.0, he captured the gold medal on the pommel horse. Peter also won 5 NCAA titles and was a 19-time All-American. Peter was inducted into the US Olympic Hall of Fame in 1991 and the USA Gymnastics' Hall of Fame in 1997. For more information go to http://www.petervidmarinvite.org/
Tim Daggett National Invitational
Dates: JANUARY 26-28, 2018.
Location:  Mass Mutual Center | 1277 Main Street, Springfield MA 01103
Summary: Tim Daggett is a former American gymnast and an Olympic gold medalist. He competed in the 1984 Los Angeles Olympics, along with Bart Conner, Peter Vidmar and Mitch Gaylord. There, Daggett scored a perfect '10.0' on the high bar, assisting his team in winning a gold medal – the first for the U.S. men's gymnastics team in olympic history. In addition to the team gold medal, he earned an individual bronze medal on the pommel horse. In 2005, he was inducted into the United States Olympic Hall of Fame.
The Tim Daggett National Invitational is being thost the Mass Mutual Center, the venue of choice in the New England area. For more information go to http://www.daggettgymnastics.com/tdni 
Bart Conner Invitational
Dates: Feburay 16-18, 2018.
Location:  Cox Convention Center | 1 Myriad Gdns, Oklahoma City, OK 73102
Summary: Is a retired American Olympic gymnast. As a member of the men's gymnastics team at the 1984 Summer Olympic Games, Conner won two gold medals. He currently owns and operates the "Bart Conner Gymnastics Academy" in Norman, Oklahoma along with his wife, Romanian Olympic gold medalist Nadia Comăneci.
The Bart Conner Invitational is being held at the beautiful cox convention center and the Bart Conner Gymnastics Academy. An International session featuring top gymnasts from around the world. Also invited team clubs have included Romania, Canada, Mexico, Venezuela, Australia, and Israel. The competition is also at the same time as the the Bart & Nadia Sports Experience. Which features health and fitness related booths offering information on nutrition, health care, exercise, sports activities and more! Sports and other fitness activities for kids! For more information go to http://www.bartconnergymnastics.com/index.php?bart-conner-invitational
Gasparilla Classic
Dates: February 23-25, 2018  
Location:  Tropicana Field | 1 Tropicana Dr, St. Petersburg, FL 33705
Summary: The 30th Annual Gasparilla Classic Invitational is held at the Tropicana Field home of the Tampa Bay Rays. The domed stadium has a great view and 35,000 seats for maximum comfort. The venue is also near St. Pete Beach and Busch Gardens Tampa. For more information go to http://www.lightningcity.com/gasparilla.html
West Point Open
Dates: January 12th – 14th, 2018  
Location:  Holleder Center & Lou Gross Sports Center, United States Military
Academy | West Point, NY 10996
Summary: The West Point Open is held on the United States Military Academy. The weekend highlight a college elite sessions that include Penn State, Navy, Temple, Springfield, William & Mary, and Army West Point. For more information go to http://goarmywestpoint.com/index.aspx?path=mgym
Black Jack Invitational
Dates: February 15-18, 2018
Location:  Westgate Las Vegas Resort & Casino | 3000 Paradise Rd
Las Vegas, NV 89109
Summary: In 1995 Dusty Ritter conceived and created the BlackJack Men's Gymnastics Championship which has since grown into one of the largest gymnastics meets in the country. The BlackJack's mission is to provide an Olympic-style experience for young gymnasts of all ages. Black Jack is also held in conjunction with Winter Cup Challenge features the top national team members and NCAA gymnasts. For more information go to http://dustyritter.com/
Houston National Invitational  
Dates: February 2-4, 2018
Location:  NGR Center | 1 NRG Park, Houston, TX 77054
Summary: Houston Gymnastics Center Director, Tim Erwin, has hosted the competition since its inception in 1994. The 24th Annual Houston National Invitational features Top Men and Women Athletes from Around the World. Houston's premier international and national gymnastics, trampoline and fitness competitions. More than 3,500 athletes in three major national and international events. Some of the nation's top Olympic and junior gymnasts, along with teams from outside the USA , come to compete in an international invitational competition.  The younger gymnasts will have the exciting opportunity of competing next to their Olympic heroes. The host of the HNI is Houston Gymnastics Center (HGC) is a multi-level community training center based at the Evelyn Rubenstein Jewish Community Center of Houston.
For more information go to http://www.hnimeet.org/