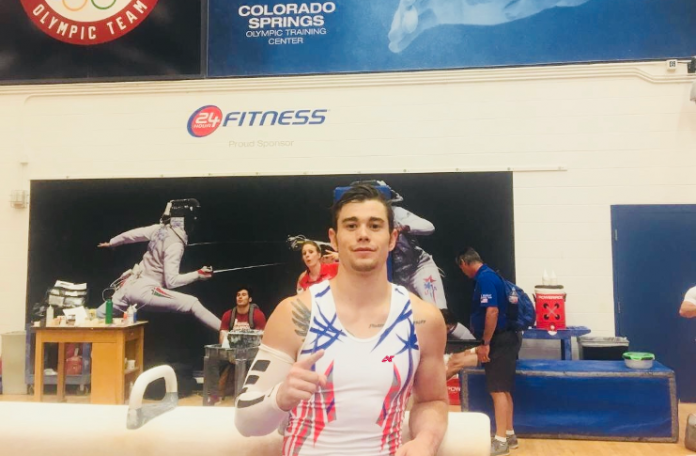 On Saturday July 14th, Colin Van Wicklen from Cypress Gymnastics Academy wins the all-around title at the 2018 US National Qualifier with a score of 83.65 at the Olympic Training Center in Colorado Springs. Van Wicklen posted the highest vault score of the competition with a 14.7, placed second on high bar 13.9, and third on Rings 14.0.
"My goal was to make my routines look as easy as possible and I did that. I did some upgrades and did a harder rings set. I got a really nice score and was super pumped about that. We did a really hard high bar set, got a hit and a stick." Says Colin Van Wicklen. "Overall I was super happy that I was able to hit six routines. Made a statement that I'm back and watch out at U.S. Championships."
Two-time Olympian Sam Mikulak who did not compete in the all-around captured three event titles on Floor (14.6), Rings (14.8), and high bar (14.7). Donathon Bailey from the Olympic Training Center just edged out two-time NCAA champion Stephen Nedoroscik and Brandon Ngai from the University of Illinois to claim the pommel horse title (14.45). Cameron Bock from University of Michigan won the parallel bars (14.550). Rounding up the top three all-around winners was Cameron Bock from University of Michigan who placed second (82.250) and third was the University of Oklahoma's Genki Suzuki (82.050).
In the Junior optional division, Khoi Young from Sportsplex Gymnastics leads the all-around (76.7), Floor (13.2), and tied for the pommel horse (13.150) with Justin Ah Chow from Universal Gymnastics Inc. University Of Iowa's Stewart Brown leads on Vault (14.25) and Parallel bars (12.750). The Junior National Qualifier division wraps up today at the Olympic Training Center in Colorado Springs.
About Colin Van Wicklen
Colin Van Wicklen, a 12-Time NCAA All-American, age 22, is a powerful and dynamic gymnast in the mix for the 2020 U.S. Olympic Men's Gymnastics Team. In 2017, as team captain, Van Wicklen help lead the Oklahoma men's gymnastics team to their third straight national championship title. Then he went lights out at the 2017 U.S. Championships, made the senior national team, and was named as an alternate to the 2017 World Team. Van Wicklen is represented by GymCrew Talent Management and is a Brand Ambassador for Alpha Factor, a division of Perform Group, LLC.